'You're a Liar': U.S. Marine Overhears Clerk Talking About His 'Deployment …
After hearing a store clerk brag about his deployment, a customer in a Fresno convenience store began to question him about his story, because the customer, a Marine himself, knew that it was riddled with inaccuracies.
Dave Kind, who filmed the interaction with the Circle K store clerk, began to ask him questions about where he was deployed and his battalion's nickname — questions that the clerk either did not answer or seemed to struggle to answer. Kind asked "which village in Afghanistan" the clerk said he was deployed to, but the clerk said he couldn't remember.
"Dude, you were not a Marine," Kind eventually said. "I know you're not a Marine. I was in the Marine Corps for five years."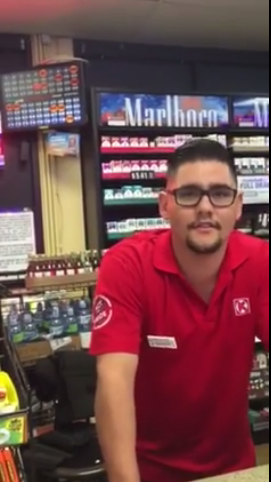 The store clerk laughed off Kind's accusations and mocked him when he tried to ask more questions.
"You're a f*****g liar," Kind said as the clerk continued to laugh.
In the video Kind, 29, also said that his girlfriend is acquaintances with the clerk's brother who confirmed he was not a Marine.
Before Kind called out the store clerk, the clerk said he was "not a Hollywood Marine" but said he went to boot camp in San Diego — not Paris Island, S.C. The clerk then inaccurately confirmed multiple times that "Hollywood Marines" — the name given to Marines trained at San Diego — are from Paris Island.
According to KMPH-TV, the Circle K store manager confirmed that the store clerk is no longer an employee but defended the young man as just joking around.
Kind posted the video to his personal Facebook page where it has amassed more than 335,000 views. He told KMPH that he was not looking for personal recognition for calling the clerk out on his stolen valor but did wish for him to apologize to veterans.
Content warning: Video contains some strong language. 
I ran into this guy at the circle k in fresno at the corner of palm and olive. Hahahahahahahahahah

Posted by Dave E Kind on Thursday, October 22, 2015
<!–
From the breaking news you need to know to the hottest trends circling the Web, TheBlaze has it all. Follow us on Facebook, Twitter, Instagram, Snapchat and Periscope.
–>
Short URL: http://militaryfeed.com/?p=49715