Yokota Airman honored for international affairs excellence


 
Photos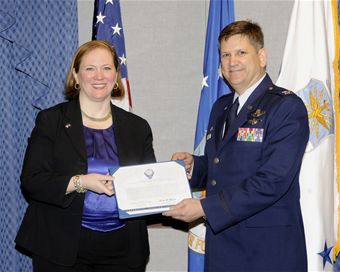 Under Secretary of the Air Force Erin Conaton presents the Air Force's
International Affairs Excellence Award to Col. Lee Harvis during a ceremony
held in the Pentagon in Washington, D.C., on May 23, 2012. Harvis currently
commands the 374th Medical Group at Yokota Air Base, Japan. (U.S. Air Force
photo/Andy Morataya)

Download HiRes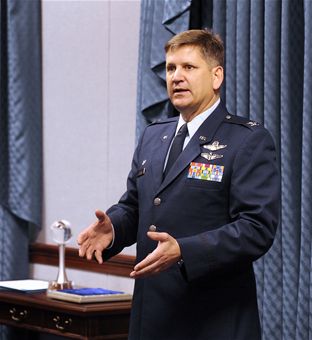 Col. Lee Harvis makes remarks after receiving the Air Force's International
Affairs Excellence Award during a ceremony held in the Pentagon in
Washington, D.C., on May 23, 2012. Harvis currently commands the 374th
Medical Group at Yokota Air Base, Japan. (U.S. Air Force photo/Andy
Morataya)

Download HiRes
Yokota Airman honored for international affairs excellence
Posted 5/24/2012


Email story  
Print story

by Tech. Sgt. Richard A. Williams Jr
Air Force Public Affairs Agency
5/24/2012 - WASHINGTON (AFNS) – An Air Force colonel was recognized May 23 for his role in supporting international relations through medical care and fostering joint relationships with Japan.
Undersecretary of the Air Force Erin Conaton presented Col. (Dr.) Lee Harvis with the 2011 Air Force International Affairs Excellence Award during a ceremony at the Pentagon.
Harvis currently serves as the 374th Medical Group commander and command surgeon for the 5th Air Force and U.S. Forces Japan at Yokota Air Base, Japan.
Conaton told attendees that Harvis exemplified the Air Force's core values and the vast skill set so pivotal to the nation's success as a global and humanitarian power.
During Operation Tomodachi, Harvis fostered multi-national medical partnerships and supported humanitarian efforts during the worst recorded natural disaster in Japan's history. He also helped his counterparts in the Japan Air Self-Defense Force revamp their aeromedical evacuation system and coordinated the first Air Force medical liaison position to the Japanese Ministry of Defense, which will coordinate the use of critical Air Force and Department of Defense medical assets for future support.
"I am very humbled by this, and it is really not a reflection of me but of the people I work with," Harvis said.
He said that dedicated Airmen, Soldiers and Sailors are the key to his success and that he would not be successful in building or maintaining strong international relationships in Japan without their professionalism and innovative approaches to mission accomplishment.
"Colonel Harvis has distinguished himself as an Airman diplomat," Conaton said. "He has already achieved a great deal, and we look forward to the great things that he will do for our Air Force in the years ahead."
The Air Force's International Affairs Excellence Award annually recognizes one Airman for outstanding and innovative contributions which had the greatest impact in international affairs and were most effective in building, sustaining, expanding and guiding Air Force-to-partner air force relationships.
All active-duty Airmen, Air Force Reserve, Air National Guard and Department of the Air Force civilians, whose duties contribute to the Air Force international affairs mission are eligible to be nominated.
Article source: http://www.af.mil/news/story.asp?id=123303380
Short URL: http://militaryfeed.com/?p=30898