US Army veteran now works at the EPD

Leave a comment
April 3rd , 2012

12:05 pm
Carter County resident Robert Bradshaw served for about two decades in the United States Army and recently joined the Elizabethton Police Department.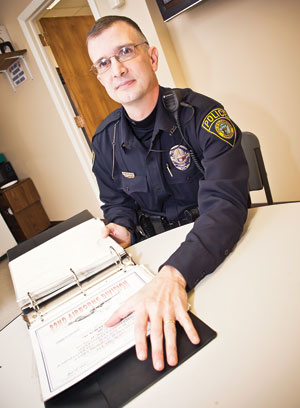 Bradshaw, the son of Rev. Nick and Vicki Bradshaw, left for the Army on June 27, 1990, two weeks after graduating from Unaka High School in the Stoney Creek community. Bradshaw completed his initial training at Fort Jackson, S.C., then at Fort Sill, Okla. Bradshaw said he then attended airborne school at Fort Benning, Ga.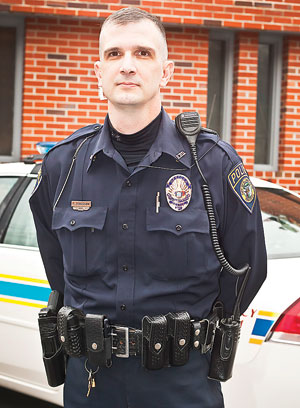 After airborne school, Bradshaw went to Fort Bragg, N.C., where he stayed for five years. "I was assault command post," Bradshaw said. "I jumped in a satellite radio and hung around the general."
In 1993, he took part in the 82nd Long Range Reconnaissance Unit. He participated in the unit from 1993 to 1995.
"It's a little six-man team, a long range surveillance team," Bradshaw said. "You are supposed to go ahead of everyone else and look at specific targets. You're supposed to be kind of passive and not try to make contact. You are supposed to watch and get intel on what the enemy is doing and send it back so they can figure out how they are going to maneuver everybody else."
The job was not top secret, the veteran noted. He added that his unit was preparing to go into Haiti, but the plan was stopped and the team was called back home.
From 1995 to 1998, Bradshaw was stationed at Fort Campbell. Then in 1998 and 1999, he went to the Korean Peninsula, where he was a reconnaissance platoon sergeant. In 1999, Bradshaw went to Fort Bragg. He was there until 2001 and was a reconnaissance section sergeant. He then spent several years at Fort Riley, Kan. He was there from 2001 to 2005.
From 2005 to 2008, Bradshaw was a division fire support sergeant. Then in 2008, he was stationed in Fort Drum, N.Y., where he was a division fire support sergeant for the 10th Mountain Division.
Bradshaw's military career has taken him to many countries around the world, including Haiti, Iraq, the Korean Peninsula, Japan, Canada, England, Germany and Panama.
The veteran is especially proud of his work in Iraq. "That was the initial invasion period," Bradshaw said. "That's the thing I am most proud of. I took all of my guys there and brought all of my guys back home."
The unit was stationed between the Iraqi cities of Fallujah and Ramadi. "We got it both ways," he said. "At first, we had a lot of contact."
At the time, Bradshaw was a platoon sergeant for a forward observe section. He was not part of a reconnaissance team at the time.
"My guys were out there telling them where to put it," Bradshaw said, referring to bombs, missiles, etc. "My job was easier than my guys. I made sure they had everything to get their job done and get out and get home safe."
Bradshaw did not sleep much in Iraq. "You make promises to people's mamas to get their boy home. You want to do it."
In situations like the one in Iraq, Bradshaw said bonds are built. "Any of those guys now, they live all over the country," he said. "I will drop what I am doing and go help them out. Stress builds closer bonds than anything else."
The veteran's unit always did its job. "After we were in the country for a while we pretty much knew where all the bad areas were, but we would get intel back," Bradshaw said. "If our infantry guys were going to go hit some place, I would automatically put together a target packet."
There were several things to consider when creating a target packet for the infantry. Anything cultural, such as a mosque, a cemetery, graveyards or schools, were out of the question. The targets also could not harm innocent people.
"We went through the target packet and decided what we wanted to hit, what would hit the least amount of collateral damage," Bradshaw added.
Generally, Bradshaw said the targets turned out to be individuals making improvised explosive devices (IEDs) or facilitating movement of insurgents.
Bradshaw, who did not learn the language of the countries he visited, had interpreters. Bradshaw noted that one interpreter was great to work with. He did not have a weapon, but he did have body armor. "We took care of him," he said.
The veteran retired from the Army on July 1, 2010 and returned to Carter County. Bradshaw said his great-uncle was a desk sergeant at the Elizabethton Police Department and he considered joining law enforcement.
"I had the desire to serve," Bradshaw said. "I wanted to have a direct impact here. I had other offers elsewhere to be a police officer, but I really wanted to be a police officer in Elizabethton, because this is my hometown. Anything I do here is going to affect people I know, my family."
Bradshaw currently serves a patrol officer at the EPD. He said several people he worked with in the Army are now in the law enforcement field.
Connect
<!–

–>

Article source: http://www.starhq.com/2012/04/03/u-s-army-veteran-now-works-at-the-epd/
Short URL: http://militaryfeed.com/?p=20679