US Army forces in Europe's Commander on Donbas frontline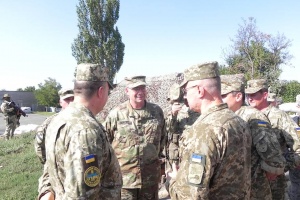 US Army General Hodges near the frontline in Donbas (ATO Command Photo)
Commander of US Army Forces in Europe Lieutenant General Frederick Ben Hodges visits Ukrainian army positions near Mariupol and promises further assistance
On August, 28 delegation of the Command of the US Armed Forces in Europe visited the tactical group "Mariupol" of Ukrainian army near the frontline in the Donetsk region.
'The purpose of the visit – the continuation of the military-political dialogue and development of practical cooperation between the armed forces of our countries,' – press officer of 'Mariupol' group informs.
The meeting was attended by Commander of US Army Forces in Europe Lieutenant General Frederick Ben Hodges, Commander of antiterrorist operation forces in Donetsk and Lugansk regions Lieutenant General Ruslan Homchak, head of the of the Ukrainian side of Joint Center for coordination and control (JCCC) Major General Boris Kremenetsky, commanders of tactical group "Mariupol" and representatives of the US Embassy in Ukraine.
Read also Ukrainian journalists under fire near town of Maryinka (video)
Ukrainian military presented an analysis of the security situation along the frontline near Mariupol and gave evidences of permanent gross violation of the Minsk agreements by the Russian proxies. This included documents on 'crimes against the local population and the deliberate destruction of infrastructure of Donbass using artillery, mortars, tanks and other heavy armor,' – stressed press officer of 'Mariupol' group. Also Ukrainian military informed, that Russia is actively using the war zone as a testing ground for the latest models of arms and military equipment, using them against the Ukrainian military and civilians. Getting such data became possible in part thanks to counter-battery radar stations ANTPQ-36. They entered service in the Ukrainian Armed Forces this year as military-technical assistance from the US government.
US military delegation also visited one of the Ukrainian artillery units.
'For the effective use of sophisticated technical equipment Ukrainian military have undergone training in International Peacekeeping and Security center of the Armed Forces of Ukraine led by experienced instructors from the American contingent of the Joint multinational training group,' – Press officer pointed.
Read also 450 attacks per week in Donbas: Photos of Russian rockets unveiled
'When we remind our fallen and wounded comrades, we understand that we must be prepared to perform our tasks more efficiently and put serious demands on training the younger soldiers, on which the future of the army relies. So US forces continue to provide assistance to the Ukrainian army,' – said General Hodges at the end of the visit.
Earlier this day the ATO headquarters reported on Monday that the combined Russian-separatist forces attacked Ukrainian army positions in eastern Ukraine 76 times in the past 24 hours. 37 of the attacks were recorded in the Donetsk sector, including 30 with heavy weapons; 27 – in the Mariupol sector and 12 – in the Luhansk sector.
Article source: http://uatoday.tv/politics/us-army-forces-in-europe-s-commander-on-donbas-frontline-736222.html
Short URL: http://militaryfeed.com/?p=53329