Two Marines receive Navy Cross for bravery in Afghanistan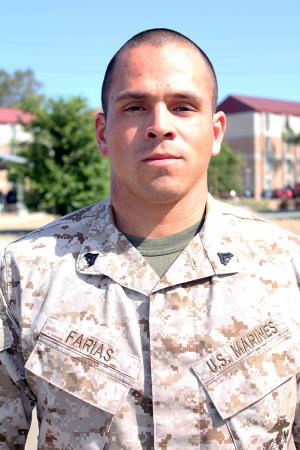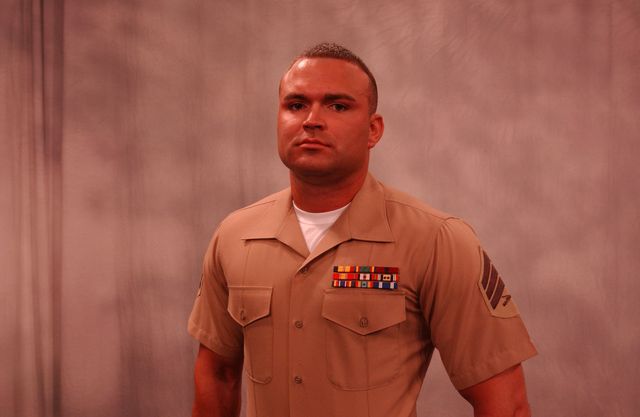 Two Marines received the Navy Cross for bravery in Afghanistan in separate ceremonies Friday.
The awards were made to Sgt. Clifford Wooldridge of the 3rd Battalion, 7th Marine Regiment at Twentynine Palms, and Sgt. Christopher Farias of the 1st Battalion, 11th Marine Regiment at Camp Pendleton.
Both awards were made by Under Secretary of the Navy Robert Work, who shuttled between the two bases. For sailors and Marines, the Navy Cross is second only to the Medal of Honor.
Farias, 26, of La Porte, Texas, was cited for saving the lives of Marines by leading an "immediate and aggressive tactical response" to a Taliban ambush on a Marine outpost in Helmand province on Oct. 5, 2010. Farias continued to fight despite being wounded by shrapnel to his neck, shoulder and back and suffering a severe concussion and broken clavicle.
"His fearless leadership and presence of mind, with enemy fire impacting all around him, repelled the enemy's initial assault," according to the official citation.
Wooldridge, 22, of Port Angeles, Wash., was a vehicle commander when his convoy came under enemy fire on June 18, 2010. He led four Marines in outflanking 15 Taliban fighters — killing eight of them and scattering the rest. Out of ammunition, Wooldridge wrestled a machine gun away from a Taliban and engaged in hand-to-hand combat with his enemy, killing him.
Wooldridge was cited for "his bold actions and his courage under fire which disrupted the enemy attack on his platoon."
ALSO:
Woman injured by burning rocks: "My pants were on fire"
Solar eclipse 2012: Best time to watch weekend's solar eclipse?
O.C. woman, ex-NFL-player lover to be sentenced in 1994 murder
–Tony Perry in San Diego
Photos: Sgt. Christopher Farias (top) and Sgt. Clifford Wooldridge. Credit: Marine Corps
Article source: http://latimesblogs.latimes.com/lanow/2012/05/two-marines-receive-navy-cross-for-bravery-in-afghanistan.html
Short URL: http://militaryfeed.com/?p=29763