Transit Center maintainers keep C-17s mission-ready


 
Photos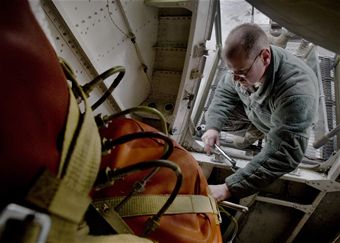 Staff Sgt. Joshua Lanoue, 728th Air Mobility Squadron Operating Location-Alpha electrical and environmental systems technician, works on a liquid oxygen converter during maintenance repairs of a C-17 Globemaster III Feb. 21, 2013, at Transit Center at Manas, Kyrgyzstan. Lanoue is deployed from Dover Air Force Base, Del., and is native of Naugatuck, Conn. (U.S. Air Force photo/Staff Sgt. Stephanie Rubi)
Download HiRes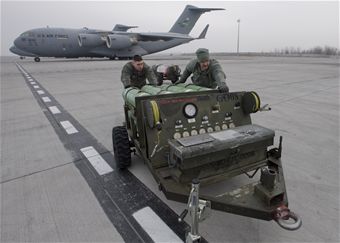 Airman 1st Class David Buchanan (left), C-17 Globemaster III crew chief, and Staff Sgt. Joshua Lanoue, electrical and environmental systems technician, both with the 728th Air Mobility Squadron Operating Location-Alpha, push a cart carrying gaseous oxygen tanks Feb. 21, 2013, at Transit Center at Manas, Kyrgyzstan. Lanoue and Buchanan replaced a liquid oxygen converter onboard a C-17 and used gaseous oxygen tanks to perform an operational check of the onboard system. (U.S. Air Force photo/Staff Sgt. Stephanie Rubi)
Download HiRes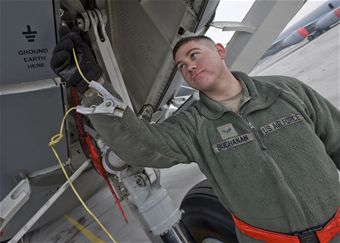 Airman 1st Class David Buchanan, 728th Air Mobility Squadron Operating Location-Alpha crew chief, grounds a C-17 Globemaster III Feb. 21, 2013, at Transit Center at Manas, Kyrgyzstan. Buchanan is deployed from Dover Air Force Base, Del., and is a native of Mesa, Ariz. (U.S. Air Force photo/Staff Sgt. Stephanie Rubi)
Download HiRes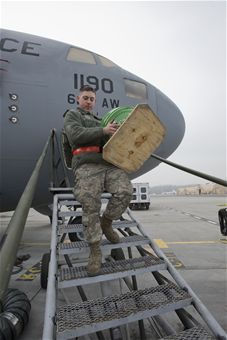 Airman 1st Class David Buchanan, 728th Air Mobility Squadron Operating Location-Alpha crew chief, carries a liquid oxygen converter removed from C-17 Globemaster III Feb. 21, 2013, at Transit Center at Manas, Kyrgyzstan. By performing routine maintenance and needed repairs, Airmen from the 728 AMS OL-A keep the C-17 ready to support airlift and onward movement. (U.S. Air Force photo/Staff Sgt. Stephanie Rubi)
Download HiRes
 
Transit Center maintainers keep C-17s mission-ready
Posted 2/25/2013   Updated 2/22/2013


Email story  
Print story

by Tech. Sgt. Rachel Martinez
376th Air Expeditionary Wing Public Affairs
2/25/2013 - TRANSIT CENTER AT MANAS, Kyrgyzstan (AFNS) – When two out of four of the Transit Center at Manas' mission pillars rely on the C-17 Globemaster III, it's important those aircraft are ready to fly.
The Airmen assigned to the 728th Air Mobility Squadron Operating Location-Alpha are responsible for maintenance of the C-17, ensuring the aircraft are mission-ready.
The 728th AMS is a traditional Air Mobility Command en route squadron supporting operations in Eastern Europe, Africa and Southwest Asia. Operating Location-Alpha is one of five 728th AMS flights; as a tenant unit at the Transit Center, it provides C-17 and C-5 maintenance expertise for AMC aircraft primarily supporting airlift and onward movement in and out of the area of responsibility.
In the last six months, the 728th AMS OL-A maintainers have launched and recovered more than 1,900 sorties, moving more than 65,000 passengers and 17,000 tons of cargo.
"For a tenant unit, we leave a big footprint here," said Master Sgt. Jon Lu, 728th AMS OL-A day-shift production superintendent. "We only have a few aircraft, so we need to make those fly. We're small, and barely manned for the aircraft we have, but we get the job done."
The flight has maintenance specialists in the areas of communication and navigation, guidance and control, electrical and environmental systems, hydraulics and engines, as well as crew chiefs. However, as an en route location, the flight is limited in the amount of routine maintenance they can accomplish. While they can accommodate scheduled maintenance for lubing and tire changes, most large scheduled maintenance is done before the aircraft deploy. But that doesn't mean less work for the maintainers; Airmen keep plenty busy making repairs as needed, and launching and recovering aircraft 24/7.
"I feel like I am doing more work here than home station," said Senior Airman Steven Walsh, 728th AMS OL-A communication and navigation technician. "Surprisingly, with few aircraft, we launch more lines than we do at home. If it's not more, we are certainly doing the same amount, but with less people."
Indeed, the C-17 operations tempo at the Transit Center is high. Outside of the bases in Afghanistan, the Transit Center is one of the leading locations in the area of responsibility pushing out C-17 aircraft, even with the small number of aircraft assigned, said Albrecht.
Walsh said he welcome the amount of work.
"I like it because it is faster paced," he said. "And I'm learning more about the different maintenance career fields here because we have such little manning that everyone helps each other."
When maintainers receive training in areas other than their career field, they refer to it as cut-training.
"Having folks cut-trained gives us the flexibility we need to move these aircraft out as fast as we need to," said Maj. Thomas Albrecht, 728th AMS OL-A officer in charge. "Even if it wasn't their mission, these guys would go out there and do it. Ninety-nine percent of these guys are mechanics because they choose to be. They want to be out there."
Obstacles such as lack of hangars for maintenance and frigid temperatures don't slow these maintainers down. In December, maintainers worked in record low temperatures and snowfall.
"Not once have these guys complained when we asked them to go do a job," said Albrecht. "I have no problems getting volunteers to work a job."
For the maintainers, the hard-work is worth it when they see the end result.
"The one thing these maintainers pride themselves on is seeing that aircraft take off every day filled with troops and cargo heading to Afghanistan," said Albrecht. "Seeing that aircraft fly downrange, knowing it is supporting the fight – it's a proud feeling."
Article source: http://www.af.mil/news/story.asp?id=123337113
Short URL: http://militaryfeed.com/?p=38772