Training in the United States Coast Guard – WJHG
').addClass('pl-'+video.id).append(
$(").append("+video.title+").find('a').click(function() {
if($(document).data('first'))
{
$(document).data('second', true);
}
var ts = Math.round((new Date()).getTime() / 1000);
g_anvato_objects['playlistembed'].config.dfp = {adtag:'http://pubads.g.doubleclick.net/gampad/ads?sz=640x480iu=/301721715/WJHGciu_szsimpl=sgdfp_req=1env=vpoutput=xml_vast2ad_rule=1unviewed_position_start=1correlator='+ts+'cmsid=3875vid=ANV_GRTV_'+video.id};
g_anvato_objects['playlistembed'].config.canonical_url="http://www.wjhg.com/video?videoid="+video.id;
g_anvato_objects['playlistembed'].loadVideo(video.id,64, 'GRTV');
$('.playlist_list').removeClass('current');
$('.pl-'+video.id).addClass('current');
$('.rec-'+video.id).addClass('current');
})
)
);
}
else
{
var ts = Math.round((new Date()).getTime() / 1000);
g_anvato_objects['playlistembed'].config.dfp = {adtag:'http://pubads.g.doubleclick.net/gampad/ads?sz=640x480iu=/301721715/WJHGciu_szsimpl=sgdfp_req=1env=vpoutput=xml_vast2ad_rule=1unviewed_position_start=1correlator='+ts+'cmsid=3875vid=ANV_GRTV_'+initVideo};
g_anvato_objects['playlistembed'].config.canonical_url="http://www.wjhg.com/video?videoid="+video.id;
g_anvato_objects['playlistembed'].loadVideo(video.id,64, 'GRTV');
$('#playlist').addClass('hidePlaylist');
};
};
});
$('.pl-'+id+' a').click();
$(document).data('first', true);
var ts = Math.round((new Date()).getTime() / 1000);
g_anvato_objects['playlistembed'].config.dfp = {adtag:'http://pubads.g.doubleclick.net/gampad/ads?sz=640x480iu=/301721715/WJHGciu_szsimpl=sgdfp_req=1env=vpoutput=xml_vast2ad_rule=1unviewed_position_start=1correlator='+ts+'cmsid=3875vid=ANV_GRTV_'+initVideo};
g_anvato_objects['playlistembed'].config.canonical_url="http://www.wjhg.com/video?videoid="+initVideo;
g_anvato_objects['playlistembed'].loadVideo(initVideo,64, 'GRTV');
$('.playlist_list').removeClass('current');
$('.pl-'+initVideo).addClass('current');
$('.rec-'+initVideo).addClass('current');
}
function load_tabbed_playlist(data) {
var videos = data.videos;
var id = ";
$('#tabbed_playlist').html(");
jQuery.each( videos, function(key, video) {
if (key == 0)
id = video.id;
$('#tabbed_playlist').append(
$(").addClass('pl-'+video.id).addClass('row-fluid').attr('style', 'padding-bottom:4px; margin:0px;').append(
$(").append(
$(").append(
''
).find('a').click(function() {
if($(document).data('first')) {
$(document).data('second', true);
}
g_anvato_objects['tabbedplayerembed'].loadVideo(video.id, 64, 'GRTV');
$('.playlist_item').removeClass('current');
$('.pl-'+video.id).addClass('current');
$('.rec-'+video.id).addClass('current');
}).append(
$('
').attr('src', video.thumbnail).attr('height', '55px')
)
), $(").append(
$(").append(
$('').text(video.title)
)
)
)
)
});
$('#tabbed-vod-player').attr('style', ");
$('#tabbed-vod-player').removeClass();
$('.pl-'+id+' a').click();
$(document).data('first', true);
}
function change_video(vidid,playerid,mcpid)
{
g_anvato_objects['playerembed'].loadVideo(vidid,playerid,mcpid);
}
Coast Guard Training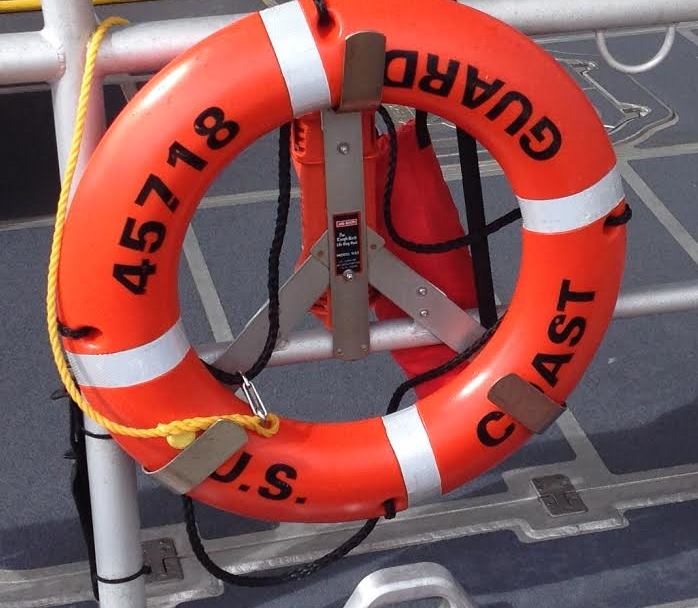 After weeks of basic training, the brave men and women of the Coast Guard are stationed across the United States, including the Destin station.
But the training doesn't stop at boot camp.
These Coast Guard men and women train every day to help residents and travelers along the Emerald Coast.
The first part of training when stationed in Destin, the watch command.
"They learn how to talk on the radio, how to talk to people on the radio in distress," said Petty Officer Thomas Kennington.
From there, the Coast Guard members learn what it takes to be a boat crew member.
Eventually, training for different search and rescue missions becomes their day-to-day routine.
There are multiple scenarios they play out every day to get ready for the real thing.
The first is your basic man over board.
"The man overboard consists of riding the ship into the path of where the individual fell overboard," said Petty Officer, Matt Barnickle. "We then come alongside the person that is in the water we either throw them a heaving line or we pick them up directly."
The second is retrieving a boat to safety.
This is when Coast Guard crewmembers throw a heaving line to the boat that is stranded or in danger.
The victims tie that line to their boat, and the search and rescue crew then pulls them back to safety.
The constant training takes a lot of time and a lot of hard work.
But like most people who serve in the military, these guardians of the sea wouldn't have it any other way.
"For me it is just very rewarding. to be out here, save people's lives and make a difference," said Petty Officer Kennington.
Officers of the United States Coast Guard stationed in Destin help hundreds of people a year.
They say their busiest time for search and rescue calls is from Spring Break to Labor Day.
Article source: http://www.wjhg.com/news/headlines/Training-in-the-United-States-Coast-Guard-233694291.html
Short URL: http://militaryfeed.com/?p=41378
Posted by
admin
on Nov 28 2013. Filed under
Coast Guard
. You can follow any responses to this entry through the
RSS 2.0
. Both comments and pings are currently closed.