Top AF analysis performer recognized
By Secretary of the Air Force Public Affairs Command Information, / Published November 25, 2015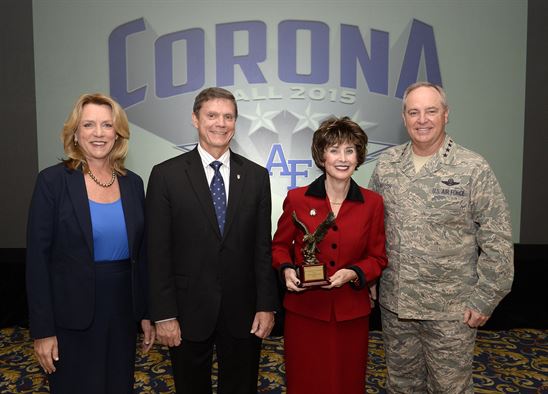 DOWNLOAD HI-RES
 /  
PHOTO DETAILS
Secretary of the Air Force Deborah Lee James and Air Force Chief of Staff Gen. Mark A. Welsh III join Kevin Williams, the director of Air Force Studies, Analyses and Assessments, and Jacqueline Henningsen following the presentation of the Kent award at the Corona summit Nov. 4, 2015. The Kent award recognizes influential leaders with substantive analytic responsibilities during their career, whose vision and leadership have had a significant and lasting effect on the achievements of Air Force analysis. (U.S. Air Force photo/Scott Ash)
COLORADO SPRINGS, Colo. (AFNS) —
Kevin Williams, the director of Air Force Studies, Analyses and Assessments, presented the Lt. Gen. Glenn A. Kent Leadership Award to Jacqueline Henningsen during the fall Corona summit at the U.S. Air Force Academy on Nov. 4.
The Kent award recognizes influential leaders with substantive analytic responsibilities during their career, and whose vision and leadership have had a significant and lasting effect on the achievements of Air Force analysis. Henningsen is the 12th recipient of this award.
"From starting as an analyst at Strategic Air Command in 1985, to program analysis and evaluation in the Office of the Secretary of Defense, to leading the Air Force Studies and Analyses Agency and finally the first director of Studies and Analyses, Assessments and Lessons Learned on the Air Staff, Dr. Henningsen displayed the highest level of care for people and delivered gold-standard results in every challenge," Williams said. "As a result of her tremendous knowledge, passion and leadership — repeatable, defendable, and rigorous analysis is now permanently woven into the fabric of the Air Force's strategic decision-making process."
Lt. Gen. Glenn A. Kent Leadership Award
Article source: http://www.af.mil/News/ArticleDisplay/tabid/223/Article/631284/top-af-analysis-performer-recognized.aspx
Short URL: http://militaryfeed.com/?p=50035