TACC leading effort for retrograde cargo from Afghanistan


 
Photos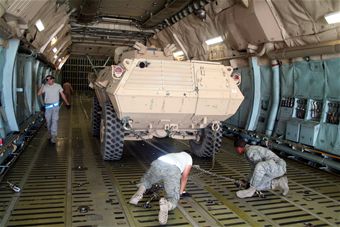 Air transportation Airmen load a C-5M Super Galaxy from Dover Air Force Base, Del., with cargo at Bagram Airfield, Afghanistan, on June 5, 2011. The C-5M's mission to Bagram was to complete the first Arctic overflight from Dover AFB to Bagram Airfield. The plane successfully landed at Bagram on June 6, 2011, then picked up cargo for the return trip back to the United States. (U.S. Air Force Photo/Master Sgt. Scott T. Sturkol)
Download HiRes
TACC leading effort for retrograde cargo from Afghanistan
Posted 4/17/2012   Updated 4/12/2012


Email story  
Print story

by By Air Mobility Command and 618th Air Operations Center Public Affairs
4/17/2012 - SCOTT AIR FORCE BASE, Ill. (AFNS) – For airlift aircraft transiting and moving cargo to and from the Southwest Asia, planners at the 618th Air Operations Center are leading an effort to keep those aircraft full of cargo as they return from the deployed areas to the United States.
The initiative, labeled retrograde, helps to efficiently utilize available cargo space on missions already planned to return from Southwest Asia. Retrograde is a term used to describe non-unit-owned cargo returning to the U.S.
"Contingency and channel planners take the back end, or return legs of missions, and fill them with cargo that needs to come home," said Brian Trout, the deputy chief of airlift plans in the Global Readiness section for the 618th AOC. "The whole idea is that we are saving time and money by using aircraft that are already positioned and would otherwise return empty."
In moving cargo, there will be challenges to make the transportation as efficient as possible. Airlift planners at U.S. Transportation Command, Air Mobility Command and Air Forces Central are working together to overcome those hurdles. Established rules of engagement for bringing back retrograde cargo from deployed locations will play a role in determining what cargo travels by air or by surface.
"If cargo is identified to move via surface transportation, the requirements are funneled to the Surface Deployment Distribution Center," said Lt. Col. Chris Fuller, the 618th AOC, Global Readiness airlift plans division chief. "If requirements need to move by air, that's where we get involved to develop efficient air solutions."
The U.S. has had a large presence in the U.S. Central Command area of responsibility for more than 10 years. Although equipment is constantly deployed and redeployed, retrograde takes care of the equipment that is not owned by a single unit. Because of the vast amount of equipment and the approaching projected mission closure date, retrograde missions started early this year.
"The operation is in its infancy at the moment, but with constant collaboration, we can maximize operations to efficiently move this mountain of cargo," Fuller said. "We are ahead of the game in beginning an enduring challenge that will last the next couple of years."
Col. James Ray, chief of the Air Mobility Division at AFCENT's Combined Air Operations Center in Southwest Asia, said they are prepared to support the Afghanistan transition.
"Simply put, we will follow General Allen's plan — fully supporting the (International Security Assistance Force) commander's mission objectives," said Ray.
On supporting the return of retrograde cargo, Ray said, "We always strive to maximize the utilization of the aircraft. Purposeful, prudent cargo loading planning is a key consideration."
Article source: http://www.af.mil/news/story.asp?id=123297769
Short URL: http://militaryfeed.com/?p=23579