Speaker of the House Paul Ryan visits, trains with 101st Airborne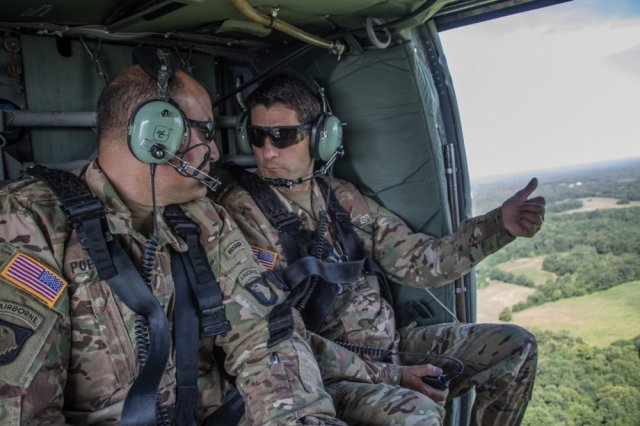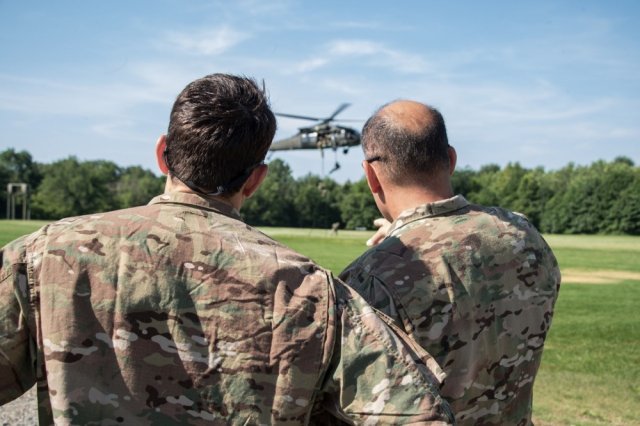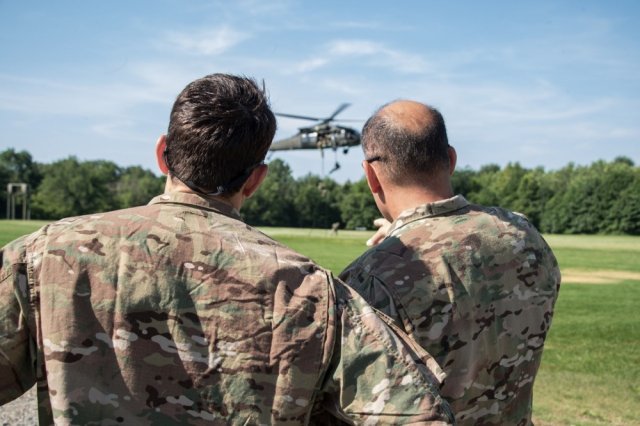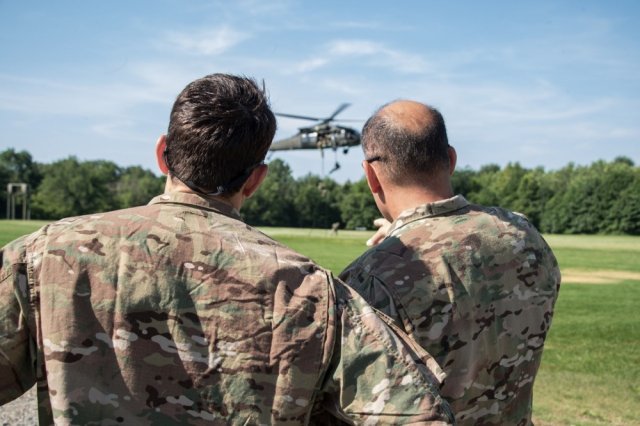 FORT CAMPBELL, Ky. — House Speaker Paul Ryan (R-Wisconsin) visited Fort Campbell, Kentucky, July 10, to get a glimpse of what it is like to be a Soldier in the 101st Airborne Division.
Ryan's visit also provided him with insight ahead of an important House vote into the capabilities of a division that has been at the tip of the spear in the nation's defense for nearly 75 years.
"Our job in Congress is to ensure our troops have the tools and resources they need to keep Americans safe," Ryan said. "That's why the House will vote this week to pass the 2018 defense bill, which includes a 10 percent funding increase from last year."
The Speaker's visit was purposefully designed to resemble an operational and tactical exercise, rather than to provide the typical view of a training demonstration, said Maj. Gen. Andrew P. Poppas, commanding general of 101st Airborne Division and Fort Campbell.
"As the Speaker leads the House, he can clearly articulate how units like the 101st Airborne use their budgets to build and sustain readiness. This includes how we train, lead and care for our Soldiers and the installation that supports them and their Families," Poppas said.
After Ryan landed at Sabre Army Airfield, he changed into an operational camouflage pattern uniform and boots and was immediately integrated into the training in which he was about to participate.
"Many times leaders receive PowerPoint briefings about a certain topic. When anyone can experience things firsthand, they come away with a better and fuller appreciation," Poppas said. "I can think of no better way to understand the requirements and resources needed to train Soldiers to be ready to fight tonight, than to do as our Soldiers do each and every day here at Fort Campbell."
"Thanks for not killing me with PowerPoint slides," Ryan joked with Poppas and his team at the end of his visit.
After Ryan changed into the OCP uniform, the Speaker, Poppas and Command Sgt. Maj. Todd Sims, 101st Airborne Division senior enlisted adviser, boarded a UH-60 Black Hawk helicopter and flew to The Sabalauski Air Assault School.
Upon arrival to TSAAS, Ryan and the command team observed a fast-rope infiltration extraction system demonstration by the air assault school instructors. The rappelling and fast rope demonstrations highlighted a few of the unique capabilities of the 101st, also known as the "Screaming Eagles."
Today, Screaming Eagles provide unmatched expeditionary air assault capabilities to conduct forcible entry whenever needed, as well as worldwide unified land operations in support of combatant commanders.
"Our 101st Airborne Division's air assault military capability builds and defines our great character, it demonstrates our confidence, and it is continuously being evaluated and tested every day by our commitment and our competence in being Screaming Eagles," said Lt. Col. Charles Brown, G-9, 101st Airborne Division, and action officer for the visit.
After the demonstration, Ryan and the command team had the opportunity to fast-rope and rappel from the towers at TSAAS.
"[Ryan] took to [rappelling] very quick," said Staff Sgt. Rodney Spence, the senior air assault instructor at TSAAS. "He was much more skilled then I had thought he would be."
The rappelling and fast-rope training experience set the conditions for the follow-on tactical, air-assault training.
Before flying across post to the Urban Warfare Complex, Ryan received an air mission brief from Chief Warrant Officer 2 Dylan Lisefski, a Black Hawk helicopter pilot with C Company, 5th Battalion, 101st Aviation Regiment, 101st Combat Aviation Brigade, 101st Airborne Division.
The AMB highlighted the importance of mission planning, safety and air crew coordination. Other topics of discussion included the importance of modernization as the 101st Airborne Division continues to ready itself for its ongoing global missions.
"This visit also highlighted the readiness challenge we face due to years of chronic underfunding," Ryan said. "There is no better time than now to renew our commitment to our military and the brave men and women who serve this nation in uniform."
Once Ryan and the command team landed at the Urban Warfare Complex, they were met by a light-infantry squad from C Company, 2nd Battalion, 506th Infantry Regiment, 3rd Brigade Combat Team, 101st Airborne Division. They demonstrated how to execute battle drill 6, enter and clear a room, from "Field Manual 7-8, Infantry Rifle Platoon and Squad."
After watching 2nd Battalion, 506th Infantry Regiment Soldiers demonstrate how to correctly execute the close quarter battle exercise, Ryan went through the same training in the shoot house.
He was given a chance to go through the crawl, walk and run phases that Soldiers typically go through to prepare for this training. During the run phase, Ryan was a team leader. His team included Poppas and two Soldiers. This experience provided the Speaker with firsthand knowledge of what it is like to perform Soldier individual and collective tasks in a CQB.
Following the CQB exercise, Ryan and the command team were given an automatic weapons demonstration provided by Soldiers from the 2nd Battalion, 506th Infantry Regiment. The demonstration included the M2 .50 caliber machine gun, M240B machine gun and the M249 squad automatic weapon.
Ryan and some members of his staff were provided with the opportunity to shoot each of the weapons.
"The Speaker was able to move through a full training progression that our Soldiers experience as they prepare for air assault and urban operations," Poppas said. "I believe we are the most deployed division in the Army today. Every day the 101st continues to build upon its 75-year legacy of heroism. Right now the division has more than 4,000 Soldiers deployed worldwide conducting operations, training or supporting combatant commander security cooperation goals.
As the 101st Airborne remains the force of choice for all needs across the spectrum of conflict, it is imperative to understand how we stay prepared to fight tonight," he said.
After a long day, Ryan flew back to Sabre for lunch at the 1st Battalion, 101st Aviation Regiment, 101st Combat Aviation Brigade's hangar, where he dined with brigade leaders from across post.
"This was a great opportunity to experience a day in the life of a 101st Soldier and witness firsthand the incredible work they do," Ryan said. "They are simply the best of the best, and I am so profoundly grateful for the sacrifices these Soldiers and their Families make to defend our country."
Article source: https://www.army.mil/article/191485/speaker_of_the_house_paul_ryan_visits_trains_with_101st_airborne
Short URL: http://militaryfeed.com/?p=57500