Sergeant Major of the Army visits Bagram

Blackanthem Military News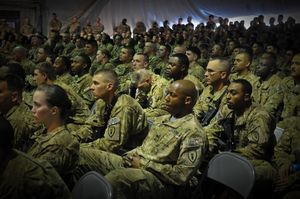 A U.S. soldier bows his head while a video production honoring his fallen comrades plays before a speech by the Sgt. Maj. of the Army Ramond F. Chandler, at the clamshell on Bagram Air Field, March 2. Photo by Sgt. Ken Scar, 7th Mobile Public Affairs Detachment
PARWAN PROVINCE, Afghanistan – The highest-ranking enlisted soldier in the U.S. Army, Sgt. Maj. of the Army Raymond Chandler, visited Bagram Air Field this week to take stock of his soldiers' morale and collect feedback to take back to Washington D.C.
As the "eyes and ears" of the Chief of Staff of the Army, Gen. Raymond Odierno, Chandler's job is to serve as a spokesman and address issues for all enlisted soldiers to all officers.
"I'm a scout," he explained. "My job is to conduct reconnaissance. I'm here to hear what's on your mind, and to take what you think and how you feel back to the Pentagon, so that the senior leadership of our Army and the Department of Defense can make informed decisions."
"I've been doing this for a little over a year now, and it's amazing," he went on. "You soldiers are incredible and I don't just say that to blow sunshine up your fourth point of contact. I mean that sincerely.
"You volunteered in a time of war to serve your nation and to go in harms way," he said. That's heroic. 99.3 percent of the rest of the United States population is either unwilling or unable to do what you do. Just think about that. It's amazing."
Chandler spoke for 20 minutes, emphasizing the Army's policy against hazing and sexual abuse, which he said are two things that are eroding the confidence American citizens have in their military.
"It's important to understand the inherent trust the American people have in their soldiers," he explained. "We can not break our faith with them. Hazing [and sexual abuse] are against who we say we are. We can't accept that in the Army.
"I Am Strong started three years ago. It's a five-year program that said we are supposed to eliminate sexual assault in two more years. So how do you think we're doing?" he asked the crowd, to a lukewarm response.
"I'll be quite honest with you – we suck!" he declared. "Because if we have one incident of sexual assault in our Army we've failed. Last year we had 1,691 reported cases of sexual assualt in the Army. The year before that we had 1,695 – so over the last two years we've reduced the reported amount of sexual assaults by four. That's not very good. As a matter of fact, that's horrible."
"We're an Army of action. We make s— happen, hooah?" he asked to a loud collective "Hooah!"
"We have got to fix this," he stressed. "If we don't, the fiber that holds us together, and makes us a band of brothers and sisters, will erode."
After his speech, Chandler answered questions from soldiers for over an hour on a wide range of subjects:
On a possible new tattoo policy:
"I have no problem with tattoos. Three of my six kids have tattoos – one of them has sleeves. I don't care if you have tattoos. But when you have tattoos that detract from your military bearing, I start to have a problem with that. If you decide to put a tattoo that [is profane] on the side of your neck, that detracts from your military appearance. Does anybody believe that they should be represented by someone in uniform with that tattooed across the side of their neck? You can choose to put that tattoo in places where it can't be seen when you're in your professional business attire."
On health care benefits:
"The Army has a certain budget, health care benefits and pay compensation make up 42 percent of that budget. Tricare for life has not increased in cost since 1996, but health care costs have increased. Total military compensation has gone up 42 percent. As a member of the nation, I think we all should be willing to pay our fair share."
On the high pay of civilian contractors:
"Do you want to make the same money as a civilian contractor? Sorry, not going to happen. If you want to try the contractor route, go for it, but we are eliminating a lot of contractors, and cutting a lot of contracts so the amount of contractors you see around is going to continue to go down."
On a proposed new uniform:
"We're going to go to a different pattern somewhere in the future – after October we'll have a decision on what pattern that is. It's going to be something different, provided the Secretary of the Army is willing to make that investment. We've gone for softer velcro so the collar stays down, and we've gone to a 15 degree-angle pocket [on the sleeves] so you can get into it with your IOTV and plate carriers on, and we've gone away from the velcro," (said to loud applause).
"Be careful what you wish for," he smiled.
He said other adjustments will include buttons on the sleeves and pants, the elimination of the drawstring in the pants, losing the knee and elbow pad pockets, and new sizes for smaller soldiers.
On the new physical fitness test:
"The rower is a better measurement of your core strength and reduces injuries compared to the sit-up. As a culture, we're comfortable with the 2 mile run because we've been doing it for 30 years, but the 1.5 mile run is a better measurement of what we're looking for. The shuttle run and the standing long jump are not really showing us anything. You build endurance by doing the tasks that you're going to be performing routinely. We'll have a decision [on the new PT test] sometime in April and we'll go from there."
The question that garnered the loudest applause was, "Does the draw down also affect officers that are not in regulation as far as height and weight?"
"If we get anybody in the Army, regardless of whether they're an officer or an enlisted person, that isn't within standards then we have an obligation to get them within standards or get them out of the service," Chandler answered.
He then asked the question, "Do you feel there's a double standard in the Army?"
When a chorus of "Hooah!" filled the clamshell, he answered, "Well, there is not. There may be a failure to enforce standards, but there is not a double standard. We're going to work to break that stigma down – because it's a concern for Gen. Odierno and I."
"I will tell you that because I'm the Sgt. Maj. of the Army, I expect you to hold me accountable to do what's right, and I know Gen. Ordierno expects the same thing from his officers corps. You have to trust leaders that they're doing what's right. We don't need a lot of new stuff – we just have to enforce the standards that we already have."
Chandler stayed after the question and answer session and took photographs with every soldier that wanted one with him.
ADDITIONAL PHOTOS: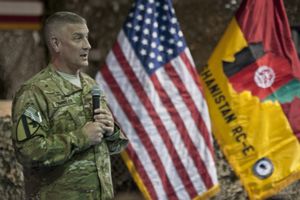 Sgt. Maj. of the Army Raymond Chandler addresses soldiers at the clamshell on Bagram Air Field, April 2. Chandler fielded questions for over an hour from soldiers dealing with a range of issues including the new physical fitness test, retirement benefits, and a possible new tattoo policy. Photo by Sgt. Ken Scar, 7th Mobile Public Affairs Detachment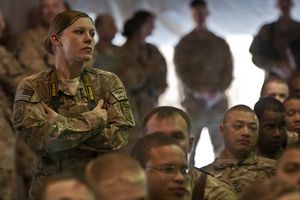 U.S. Army Spc. Jamie Ramsdell, a native of Lewisburg, Tenn., listens to a speech by Sgt. Maj. of the Army Raymond Chandler at the clamshell on Bagram Air Field April 2. Chandler spoke for 20 minutes, then fielded questions for over an hour from soldiers dealing with a range of issues from the new physical fitness test to a proposed new tattoo policy. Photo by Sgt. Ken Scar, 7th Mobile Public Affairs Detachment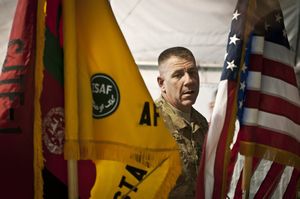 U.S. Army Sgt. 1st Class William Bond from Bishop, Calif., inspects the U.S. and Regional Command East flag display before a speech by the Sgt. Maj. of the Army Raymond F. Chandler at the clamshell on Bagram Air Field April 2. Chandler spoke for 20 minutes, then fielded questions for over an hour from soldiers dealing with issues including the new physical fitness test, new re-enlistment guidelines and tattoo policies. Photo by Sgt. Ken Scar, 7th Mobile Public Affairs Detachment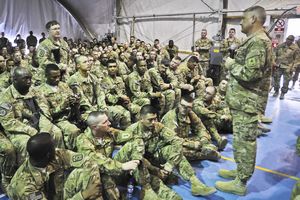 U.S. Army Sgt. 1st Class Joshua Toone, a native of Enid, Okla., asks Sgt. Maj. of the Army Raymond Chandler a question during a Q and-A session at the clamshell on Bagram Air Field April 2. Chandler spoke for 20 minutes, then fielded questions for over an hour from soldiers dealing with a range issues from the new physical fitness test to a possible new tattoo policy. Photo by Sgt. Ken Scar, 7th Mobile Public Affairs Detachment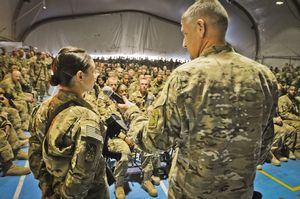 U.S. Army Sgt. Jessica Utley, from Gasport, N.Y., earns a coin from Sgt. Maj. of the Army Raymond Chandler by explaining to him the proper definition of corrective training at the clamshell on Bagram Air Field April 2. Chandler spoke for 20 minutes, then fielded questions for over an hour from soldiers dealing with a range of issues from the new physical fitness test to a proposed new tattoo policy. Photo by Sgt. Ken Scar, 7th Mobile Public Affairs Detachment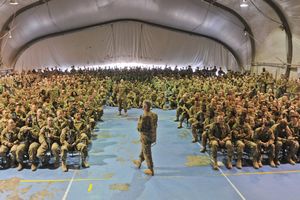 Sgt. Maj. of the Army Raymond Chandler addresses soldiers at the clamshell on Bagram Air Field April 2. Chandler fielded questions for over an hour from soldiers dealing with issues including the new physical fitness test, new reenlistment guidelines, tattoo policies and new uniforms. Photo by Sgt. Ken Scar, 7th Mobile Public Affairs Detachment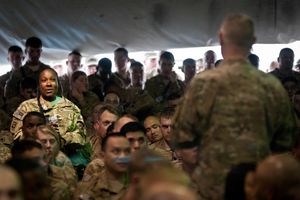 U.S. Army Staff Sgt. Teniea Thomas, who is from Lima, Ohio, asks Sgt. Maj. of the Army Raymond Chandler a question during a Q-and-A session at the clamshell on Bagram Air Field April 2. Chandler spoke for twenty minutes, then fielded questions for over an hour from soldiers dealing with a range of issues from the new physical fitness test to a proposed new policy on tattoos. Photo by Sgt. Ken Scar, 7th Mobile Public Affairs Detachment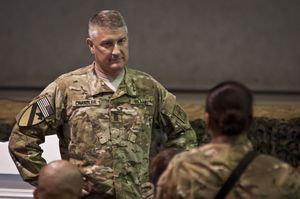 Sgt. Maj. of the Army Raymond Chandler listens to a question from a soldier during a Q and-A session at the clamshell on Bagram Air Field April 2. Chandler fielded questions for over an hour dealing with issues from the new physical fitness test to a proposed new policy on tattoos. Photo by Sgt. Ken Scar, 7th Mobile Public Affairs Detachment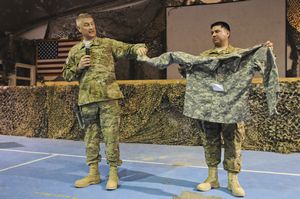 Sgt. Maj. of the Army Raymond Chandler points out some changes in the new U.S. Army uniform to soldiers at the clamshell on Bagram Air Field April 2. Chandler fielded questions for over an hour on issues including the new physical fitness test, new reenlistment guidelines, tattoo policies and new uniforms. Photo by Sgt. Ken Scar, 7th Mobile Public Affairs Detachment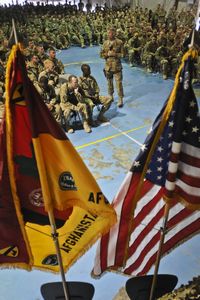 Sgt. Maj. of the Army Raymond Chandler addresses soldiers at the clamshell on Bagram Air Field April 2. Chandler spoke about the importance of the anti-hazing and sexual harassment policies, and then fielded questions for over an hour on a range of issues including the new physical fitness test and proposed new tattoo policy. Photo by Sgt. Ken Scar, 7th Mobile Public Affairs Detachment
Article source: http://www.blackanthem.com/News/Military_News_1/Sergeant-Major-of-the-Army-visits-Bagram24256.shtml
Short URL: http://militaryfeed.com/?p=21474