Sergeant continues family tradition with 'Sounds of Harmony'


 
Photos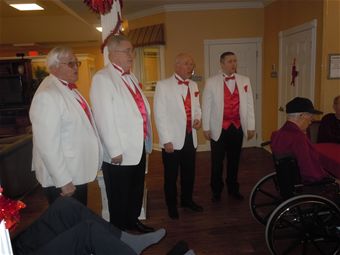 Staff Sgt. Steven Martin (far right) sings with local area quartet called "Sounds of Harmony" Feb. 14, 2013, in the St. Louis, Mo., area. (U.S. AIr Force courtesy photo)
Download HiRes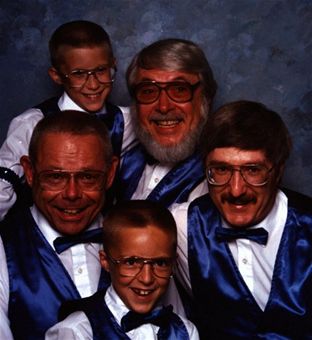 As a child, Steven Martin (top left) sang with his father's quartet. Now a staff sergeant working in the Air Mobility Command, Martin sings with a local area quartet called "Sounds of Harmony". (U.S. Air Force courtesy photo)
Download HiRes
Sergeant continues family tradition with 'Sounds of Harmony'
Posted 2/21/2013


Email story  
Print story

by Airman 1st Class Jake Eckhardt
375th Air Mobility Wing Public Affairs
2/21/2013 - SCOTT AIR FORCE BASE, Ill. (AFNS) – (This feature is part of the "Through Airmen's Eyes" series on AF.mil. These stories focus on a single Airman, highlighting their Air Force story.)
At the age of 10, his father asked him to be a part of something that would forever change his life.
Blessed with a gift that had been genetically passed down to him from his father and grandfather before him, he accepted the invitation to join his father's barbershop quartet.
Barbershop is acapella style of music in which all of the music is produced from the member's voices.
Now Staff Sgt. Steven Martin, an Air Mobility Command operations controller, continues to uphold the family tradition 24 years after he started.
"It's a family thing," he said. "I wouldn't be singing if it wasn't for my father."
He sang with his father for 10 years, even while he attended community college for Computer Information Systems in Harrisburg, Pa. During that time, he was a part of a small group in the local area. After two years of college he decided to join the Air Force.
Martin was eventually stationed at Scott Air Force Base, Ill., in 2002 and joined a local group called the "Sounds of Harmony." According to Martin, the group is considered to be the best small chorus in Illinois.
The group has 30 to 35 active members who range in age from 25 to 75. The group sings a variety of songs from the 20s, 30s, 50s and 60s.
"My dad used to be stationed here, and he sang with a guy in the chorus, so he called the guy and said 'Hey, my son's going to be stationed there. Could you show him all the choruses around?'" he said.
One of Martin's dreams was to sing competitively, and he did that in 2004 when he sang with the "Ambassadors of Harmony" from St. Charles, Mo.
"I got to compete in an international competition and won a gold medal," he said. "My father was there when I won. It made the moment more special to me."
Even though his group sings older styles of music, he gets his influence by listening to a variety of music.
"It's interesting, because I have the barbershop stuff, which is an older style, but then I listen to a lot of more current bands like Motorhead," he said.
Martin said he keeps singing purely out of his passion for it.
"It's all about dedication and a love for singing," he said. "If you come into this loving to sing, then you really don't need anything else."
Article source: http://www.af.mil/news/story.asp?id=123337186
Short URL: http://militaryfeed.com/?p=38776