SEALS search for Sanchez
Cinema
Posted on 06:52 PM, July 12, 2012
BY PETERSON GONZAGA, Front Row Features
HOLLYWOOD — Roselyn Sanchez is a brand new mom, but motherhood didn't keep her from the call of duty of promoting her new film, Act of Valor, in which she co-stars with actual Navy SEALs and other Navy crewmen.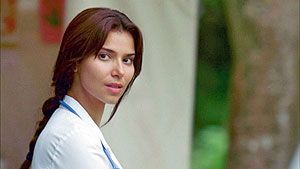 A FICTIONALIZED account of real life Navy SEAL operations, Act of Valor stars a group of active-duty US Navy SEALs. The SEALs are on a mission to recover a kidnapped CIA operative when they discover an imminent, terrifying global threat. Directed by Mike McCoy and Scott Waugh, the film stars Roselyn Sanchez and Nestor Serrano. Film review aggregate site Rotten Tomatoes gives the film a paltry 25% positive reviews.
Sitting in a Beverly Hills hotel room with directors-producers Scott Waugh and Mouse McCoy, Sanchez explains she's used to playing sexy, bombshell roles in movies but was attracted to the role of CIA Agent Morales in the action drama because it was the total opposite of what she is used to.
Dressed in a blue floral dress with a plunging neckline, Sanchez jokingly says, "Sorry about this (as she looks down at her cleavage), I just had a baby. I'm not trying to be sexy right now. I'm breastfeeding.� (She and husband Eric Winter became parents to a baby girl, Sebella, in January.)
In Act of Valor, Morales goes undercover as a nurse in a Costa Rica village helping the poor but when her cover is blown, the Navy SEALs are called into action to help rescue the agent who is being held captive and tortured by terrorists. Sanchez had to delve into the mindset of a tortured prisoner while wearing prosthetics making her look gruesome. She says she was disturbed by her appearance but she also wanted to look authentic for the audience's sake.
"I loved the experience of exposing myself,� she says of her less than glamorous look in the film. "I don't have to look pretty. I don't want to look pretty. For once, I want people to recognize the work instead of my physique.�
The actress could have done without the long process of putting on the makeup, though.
"I didn't love the prosthetics and the craziness of that,� she reveals. "I was a bit miserable (during shooting) but once I saw the movie, I was so proud of it.�
Shooting the scenes was a breeze for her in Puerto Rico, but in Mississippi it was grueling working in the swamp, which was infested with bugs and spiders.
"It was a difficult shoot, the Mississippi (part),â€? she says. "The Puerto Rico part, I loved because I'm Puerto Rican. I was home. When we were in Mississippi, I was like s—-, but it was a wonderful experience overall.â€?
Sanchez is the only female in the cast, which features actual Navy SEALs playing themselves, an aspect she didn't mind.
"Everybody was so respectful,� she says.
The chance to work with real Navy SEALs in the film was also a draw for her in taking the role.
"For me, to be a part of the movie with real Navy SEALs and to meet them and see that they are normal cool guys with an incredible mission, it was really great,� she says.
Co-director-producer Waugh says Sanchez was perfect for the role of the kidnapped agent. He wanted an actress that would not alter the energy of the movie when being rescued by the SEALs.
"You don't want to ruin the intensity of the movie of having them rescue (more recognizable actors like) Michelle Pfeiffer or take down Dennis Hopper, it would wreck the whole experience,� he says. "You're trying to find the most talented actor but (someone who) wasn't that recognizable.�
Co-director-producer McCoy adds, "For Roselyn's character, it had to be someone believable and indigenous to the area. Her role in the film as a CIA operative, she was able to blend in, knowing Spanish and English. We took our chance on Roselyn not being a distraction and keeping it authentic.â€? — Universal UCLICK
Please enable JavaScript to view the comments powered by Disqus.
Article source: http://www.bworldonline.com/weekender/content.php?id=55041
Short URL: http://militaryfeed.com/?p=35283