REVIEW: Act of Valor (Blu-ray)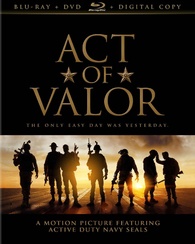 THE FILM:
First and foremost, the filmmakers of ACT OF VALOR want you to know it was made with the cooperation of the United States Navy and starred actual active duty US Navy SEALS and US Navy Special Warfare Combatant Crewmen. These are not actors. These are the real deal. They shot live ammunition in the film. Not blanks. In one of the supplements, the co-directors Mike McCoy and Scott Waugh say that by using actual serving soldiers and their families they get a realism that actors simply couldn't convey. I am guessing they feel that actors are ill-equipped to convey real emotion or maybe aren't up to snuff on looking like real soldiers in movies. Only real life active duty soldiers can do that. If there is one thing their film ACT OF VALOR proves in this sense is that soldiers can kick butt and talk in long melodramatic and patriotic monologues. Actors can create characters you actually care about and make movies that are considered good.
ACT OF VALOR opens with a team of Navy SEALs as they attempt the rescue of undercover CIA agent Morales (Roselyn Sanchez) in Costa Rica. Morales was working on gathering intel on international drug smuggler Christo (Alex Veadov) when she and her partner were attacked and taken to an isolated river-side compound for interrogation. The SEALs quickly discover from their rescue attempt that Christo is working with his childhood friend, Abu Shabal (Jason Cottle), a Muslim terrorist. And the pair is not planning on smuggling drugs; they are working on smuggling jihad suicide bombers into the United States. Our team of SEALs then leaps into action and fly all over the globe hunting this imminent threat to America.
ACT OF VALOR reminds me of another disc we recently reviewed here: TOM CLANCY'S GHOST RECON: ALPHA. That disc ran under 30 minutes and was basically one big action set-piece of our generic tough-guy soldiers discovering a major threat to our shores and shooting things up. ACT OF VALOR is very like a much longer version of that. While we do "meet" our hero SEALs in a painfully clichéd opening, they are little more than video game characters (complete with pop-up information about their military stats! Seriously!) out to take down cartoonish super-villains. This film moves from one shoot-em-up set piece to the next, varying locales and modes of transportation every time to better show the reach of the American military and mighty powers at their disposal. It really feels more like a commercial for the Navy or a reality television show than a proper movie. While I have no doubt that directors McCoy and Waugh were seriously trying to show our soldiers in the best light, the story and laughably clichéd way they did it (the heavy handed narration, the video game graphics, the completely predictable fates of some of our characters that have gone beyond cliché into parody) really did them no favors.
THE DISC:
Given that this film was shot entirely with an over-the-counter Canon SLR, the anamorphic 2.40 transfer is amazing. It is on par with huge budget productions with excellent color saturation and rich, true blacks. Detail and clarity are startlingly sharp. Really can't say anything against the picture…
…Which falls over to the DTS-HD Master Audio 5.1 sound mix as well. ACT OF VALOR is pretty much a non-stop shoot-em-up, blow-em-up action vehicle and this extremely active sound mix will have you ducking for cover as every caliber of bullet flies through your home theater. Through it all dialogue is clear and when you can't hear it due to excessive bang bang action, handy dandy subtitles come to the rescue.
THE EXTRAS:
If the blazing message plastered throughout the films trailer didn't drive home the point that this movie was made with real soldiers and real ammo, here is an entire supplement section to make sure you know.
The goodies kick off with a "Director's Intro" featuring co-directors Mike McCoy and Scott Waugh introducing their movie and briefly taking about how it came to be.
They return for a commentary track that greatly praises the cooperation of the US Navy and also sneaks in a good amount of practical production information as well.
Six "Deleted Scenes" are decent and worth checking out.
"The Making of ACT OF VALOR" is quite short and on the fluffy/promotional side.
"Interviews with Active Duty Navy SEALs," "Real Bullets," "Real SEALs" and "Silent Warriors" range from a couple of minutes to a full 30 minutes ("Interviews") discussing and showing that real everything is in this movie. Yep, real soldiers, real weapons and real ammo. Just in case you forgot.
Keith Urban's "For You" Music Video is here and so is the "Making of the Music Video."
MY SAY:
ACT OF VALOR tried to be a noble look at what Navy SEALs do for our country but it really only succeeds as a mindless action movie. As a gripping film with relatable characters it succeeds in being little more than a reality show piece of propaganda for military fans. Recommended as a rental at best.
20th Century Fox Home Entertainment / 2012 / 110 min. / R
Article source: http://kdvr.com/2012/06/19/review-act-of-valor-blu-ray/
Short URL: http://militaryfeed.com/?p=32873