Progressives Lash Out Against Air Force Academy's 'Ex-Gay' Counselor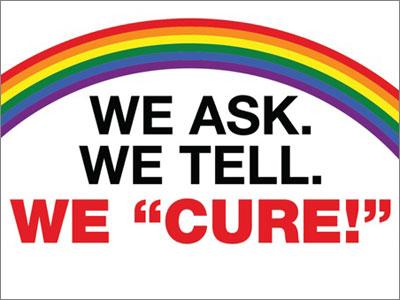 Striking while the iron of public shaming is hot, the Military Religious Freedom Foundation is set to reveal its third billboard in Colorado Springs, Colo., blasting the Air Force Academy's employment of a fundamentalist Christian and "ex-gay" therapist as the chief of the academy's mandatory counseling program at the Center for Character and Leadership Development. 
Since news broke last week that the academy hired Mike Roshbush, Ph.D., to lead the mandatory counseling program and develop the academy's program for examining fitness of character, the Air Force Academy has been in full damage-control mode. 
And the Air Force won't be able to go off the defensive any time soon, if the Military Religious Freedom Foundation has anything to say about it. Earlier this month, the Foundation, which aims to maintain the separation between church and state in U.S. military institutions, put up a billboard in Colorado Springs exposing an academy staffer's promise that he "will talk about Jesus Christ my Lord and savior to everyone I work with."
And this week, the MRFF will unveil a new billboard, taking aim directly at Rosebush's well-documented involvement in the "ex-gay" movement that aims to turn gay people straight through prayer and counseling. The practice, sometimes called "reparative therapy," has been disavowed by every major medical and psychological organization in the country, and banned for use on minors in California and New Jersey.
Featuring a rainbow arching over the words "We Ask. We Tell. We 'Cure!'" the rainbow morphs into an American flag, which underlines what MRFF sees as the academy's unspoken motto: "U.S. Air Force Academy — Graduate Straight."

As John Aravosis at AmericaBlog first reported, Rosebush has a long and well-documented history within the right-wing, religious, and so-called ex-gay movement. A former vice president of the antigay group Focus on the Family, which is headquartered just a few miles from the academy in the central Coloradan city, Rosebush also claims he underwent "ex-gay" therapy to change his sexual orientation from gay to straight. For the past two decades of his professional career, Rosebush has been a leading advocate in the push to affirm the scientifically discredited practice of "reparative therapy."
In an effort to quell growing outrage over Rosebush's virulently antigay past, top Air Force brass met with members of the academy's Spectrum LGBQ-affinity group and produced a press release full of talking points about how proud the cadets were to be in the Air Force, and rejecting any claims that they are subjected to a hostile environment at the academy. But a closeted gay cadet — who can't participate in Spectrum since he's not out — slammed the Air Force's statement as a "self-serving crock." MRFF represents the cadet, who asked to remain anonymous for fear of reprisal within the ranks at the academy. 
On Friday, the academy released a statement implying that it was investigating the allegations that it's failing to adhere to federal law, which stipulates that members of the military may not be discriminated against based on their sexual orientation, since the 2011 repeal of "don't ask, don't tell."
"The Air Force is comprised of a rich workforce whose backgrounds reflect various races, origins, orientations, ethnicities, languages, cultures and life experiences," it reads the statement from Acting Secretary of the Air Force Eric Fanning and Gen. Mark A. Welsh III, Air Force chief of staff. "We promote an atmosphere of inclusion throughout our ranks and strive to ensure every Airman is treated with dignity and respect."
The Air Force has confirmed that Rosebush leads the counseling program, though it was quick to note that he does not directly counsel cadets. Nevertheless, participation in the counseling program is mandatory for cadets, and Rosebush manages the team of counselors who do directly counsel cadets. And as Aravosis points out, Rosebush "developed the entire character and leadership building coaching program the academy uses, called 'MOSAIC Personal Coaching.'"
Article source: http://www.advocate.com/politics/military/2013/11/25/progressives-lash-out-against-air-force-academys-ex-gay-counselor
Short URL: http://militaryfeed.com/?p=41372