Nellis Airmen clean-up F-15 crash site


 
Photos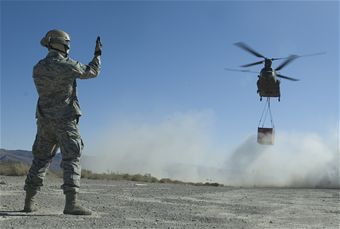 U.S. Air Force Master Sgt. Guenther Bogensperger, the 820th RED HORSE Squadron airborne flight airborne water and fuels systems maintenance superintendent, guides in a CH-47 Chinook from the Army National Guard, Stockton, Calif., to a designated drop site while conducting recovery and clean-up efforts at an F-15C Eagle aircraft crash site Nov. 9, 2011, in the Nevada Test and Training Range. The sling load training and air assault certification of 820th RHS airborne flight Airmen proved crucial in the success of the quick-response operation. (U.S. Air Force photo/Staff Sgt. Christopher Hubenthal)
Download HiRes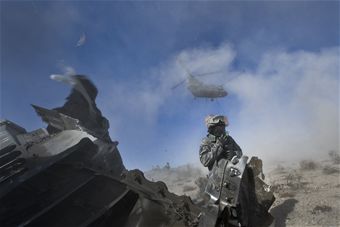 An Airman with the 820th RED HORSE Squadron airborne flight, out of Nellis Air Force Base, Nev., prepares to rig a connex box for a sling load operation as a CH-47 Chinook from the Army National Guard, Stockton, Calif., hovers overhead during an operation in the Nevada Test and Training Range on Nov. 9, 2011. Nellis AFB Airmen and Soldiers from the ANG worked together to load and transport six connex boxes containing 47,000 pounds of aircraft parts. (U.S. Air Force photo/Airman 1st Class Daniel Hughes)
Download HiRes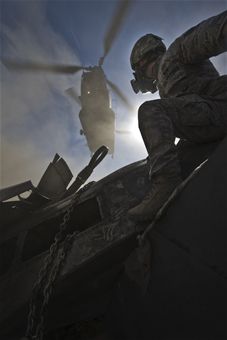 U.S. Air Force Staff Sgt. Ian Zerby, with the 820th RED HORSE Squadron airborne flight from Nellis Air Force Base, Nev., prepares to rig a connex box for a sling load operation as a CH-47 Chinook from the Army National Guard, Stockton, Calif., hovers overhead during an operation Nov. 9, 2011, in the Nevada Test and Training Range. The operation was the 820th RED HORSE Squadron airborne flight's first real-world sling load operation. (U.S. Air Force photo/Airman 1st Class Daniel Hughes)
Download HiRes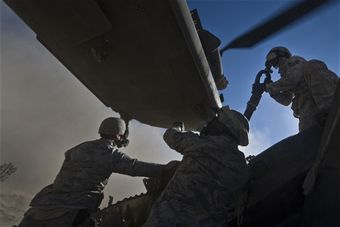 Airmen with the 820th RED HORSE Squadron airborne flight, out of Nellis Air Force Base, Nev., prepare to rig a connex box for a sling load operation as a CH-47 Chinook from the Army National Guard, Stockton, Calif., hovers overhead Nov. 9, 2011, in the Nevada Test and Training Range. Airmen and Soldiers worked together to conduct recovery and clean-up efforts at an F-15C Eagle aircraft crash site in the Nevada Test and Training Range. (U.S. Air Force photo/Airman 1st Class Daniel Hughes)
Download HiRes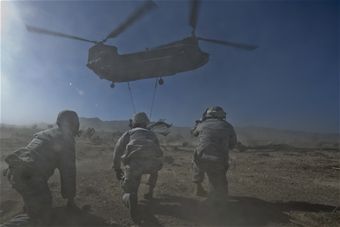 Airmen with the 820th RED HORSE Squadron airborne flight, out of Nellis Air Force Base, Nev., take a knee as a CH-47 Chinook from the Army National Guard, Stockton, Calif., recovers an aircraft part during a recovery and clean-up operation Nov. 9, 2011, in the Nevada Test and Training Range. An F-15 crashed Oct. 24, 2011, northwest of Alamo, Nev., and the Safety Investigation Board had been examining the scene since the incident occurred. (U.S. Air Force photo/Airman 1st Class Daniel Hughes)
Download HiRes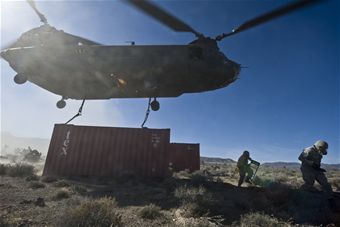 Airmen with the 820th RED HORSE Squadron airborne flight, out of Nellis Air Force Base, Nev., attain a safe distance from a CH-47 Chinook from the Army National Guard, Stockton, Calif., during an operation Nov. 9, 2011, in the Nevada Test and Training Range. With the assistance of the Army National Guardsmen and their CH-47 helicopter, the Airmen were able to sling load a total of six connex boxes containing 47,000 pounds of aircraft parts from an F-15C Eagle crash site to the Alamo airport five miles away. (U.S. Air Force photo/Airman 1st Class Daniel Hughes)
Download HiRes
Nellis Airmen clean-up F-15 crash site
Posted 11/30/2011


Email story  
Print story
by Senior Master Sgt. Richard Buchalski
820th RED HORSE Squadron
11/30/2011 - NELLIS AIR FORCE BASE, Nev. (AFNS) – Nellis Air Force Base Airmen worked alongside the Army National Guardsmen Aviation unit stationed in Stockton, Calif., to conduct recovery and clean-up efforts for the F-15C Eagle aircraft crash site in the Nevada Test and Training Range recently.
The operation was the 820th RED HORSE Squadron airborne flight's first real-world sling load operation.
The F-15 crashed Oct. 24, 2011, northwest of Alamo, Nev., and the Safety Investigation Board had been examining the scene since the incident occurred. Once the SIB concluded its initial stage of gathering information from the site, Nellis AFB Airmen from the 820th RHS, 99th Civil Engineer Squadron, 99th Logistics Readiness Squadron and the 99th Security Forces Squadron were permitted to begin cleaning up the crash site.
In addition to gathering and boxing the aircraft debris, the Airmen of the 820th RHS tore down the on-scene base camp, which was erected the day after the crash for the SIB members and security forces personnel to use in day-to-day operations.
With the assistance of the Army National Guardsmen and their CH-47 helicopter, the Airmen were able to sling load a total of six connex boxes containing 47,000 pounds of aircraft parts from the crash site to the Alamo airport five miles away.
After redistributing four connex boxes worth of wreckage materials into four tractor trailers at the Alamo airport, the Airmen transported the last two 20-foot connex boxes and the tractor trailers back to the Nellis AFB flightline for the SIB to continue examining.
"Despite the austere environment, remote location and logistics, Team Nellis was able to utilize the sling load capability provided by the 820th RHS, along with the 99th CES, 99th LRS and 99th SFS to recover an F-15 in four days," said Senior Master Sgt. Lee Smith, the Nellis AFB emergency manager. "(Four days is) half the time of a normal aircraft recovery operation in perfect conditions. This is a true testament of the attitude and expertise of our Airmen today."
Article source: http://www.af.mil/news/story.asp?id=123281609
Short URL: http://militaryfeed.com/?p=4857