Natural Born Leader: Gunnery Sgt. Brian M. Blonder (Portrait and Profile)
Hometown:
Deer Beach, Fla.
Joined the Corps:
June 1997
MILITARY OCCUPATIONAL SPECIALTY: 0321, Reconnaissance
Gunnery Sgt. Brian M. Blonder was awarded the Navy Cross, the second highest award given for valor in the face of danger, during a ceremony at the Marine Corps War Memorial May 10. He was recognized for his bravery and outstanding leadership during an all-day firefight against Taliban insurgents during the battle of Shewan, Afghanistan. Although he and the Marines and sailors fighting alongside him were outnumbered eight to one, they defended and secured their positions in the southern Farah province. Blonder was serving as platoon sergeant with a force reconnaissance platoon attached to 2nd Battalion, 7th Marine Regiment.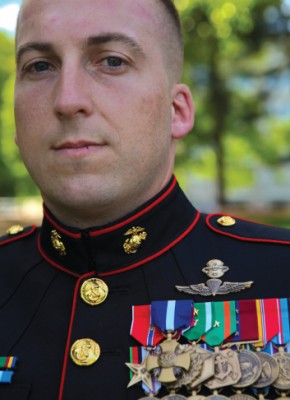 MARINES: What's your main focus as a leader of Marines in the combat zone?
Mission accomplishment. Everything we do – training, rehearsals, inspections, troop welfare – are geared toward mission accomplishment.
What was your role as a Force Recon Company with 2nd Battalion, 7th Marine Regiment, during the deployment?
We supported the infantry and enabled them to accomplish the mission.
What were your initial feelings when you entered the village of Shewan?
All of the indications that there was going to be action were there. I felt good about it because we were prepared and ready to do our jobs.
When you realized the enemy outnumbered you guys that day, what drove you to keep pushing and keep fighting?
That's what Marines do – mission accomplishment. We were there to kill the enemy. Just finding them was the hardest part. When we did, we went about the day as work.
Was there an instance when you knew the fight was over? How did it end?
It was anticlimactic. We were maintaining our positions until there was nothing to shoot at. When we got up and walked around, we knew we had controlled the battlefield.
After making the necessary assessments, how did you feel when the fight was over?
It felt good. We were victorious. We accomplished what we came to do. The Marines from 2nd Battalion, 7th Marine Regiment, and Force Reconnaissance Company should look back at that day as a victory for accomplishing something important.
What did the success of the battle mean to future coalition operations in that area?
It by no means meant that it was a safe area, but it shifted the dynamics between the Marines and enemy. Ultimately, it sent the message that the Marines were in control.
How did the Marines conduct themselves in the fight?
Like Marines. They stood and fought. Then, they took the fight to the enemy regardless of the odds.
How successful was that deployment?
Extremely successful. It felt good to get back to the root of recon – supporting the infantry.
Is there a message you'd like to tell Marines fighting on the forward edge of the battlefield today?
Success in combat is all about adhering to the basics. It's the lethality and aggressiveness of Marines that wins battles … not necessarily technology.
Who do you look up to?
I look up to Marines of the past. They set a standard of excellence that is almost unattainable. We need to strive to achieve that standard.
What's a luxury from home you missed the most while deployed?
Cold beer.
If the Battle of Shewan was captured on film in a music video, what song do you think would be best to play it to? 
"Creeping Death" by Metallica. "… die by my hand, I creep across the land."
Related Posts

October 6th, 2011 // By By Sgt. Earnest J. Barnes, 2nd Marine Division

CAMP LEATHERNECK, Afghanistan   — The 8-ounce fillets hit the grill in a sizzle and juice dripped down on the red coals, causing a flow of white smoke to billow from the smoker. The line  [Read more...]

August 12th, 2010 // By Lance Cpl. Benjamin Harris

ARLINGTON, Va. – It's been almost 55 years since the Marines of Company D, 2nd Battalion, 7th Marine Regiment, left the Korean peninsula after cold days and long nights of combat. In the years since,  [Read more...]
Article source: http://marinesmagazine.dodlive.mil/2011/11/30/natural-born-leader-gunnery-sgt-brian-m-blonder/
Short URL: http://militaryfeed.com/?p=4861