military staff told of job losses

11 June 2012
Last updated at 23:03 ET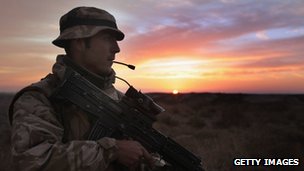 About 30,000 military personnel will lose their jobs, as the government seeks to balance the defence budget
The Ministry of Defence will tell 4,100 Armed Forces personnel that they have been made redundant later.
About a third will be compulsory redundancies in a second wave of job losses – it follows 2,860 job cuts announced in August and September 2011.
In this tranche, 2,900 posts will go from the Army, 900 from the RAF and 300 from the Royal Navy.
The MoD wants to cut 29,000 military and 25,000 civilian posts by 2015, to plug a £38bn defence budget gap.
The numbers due to be let go on Tuesday were announced by the MoD in January.
This should be the last major wave of job losses for the navy and the RAF. The services should be able to achieve the majority of the remaining personnel reductions by other means.
Meeting the challenges
About 17,000 armed forces jobs are scheduled to be cut under the terms of the Strategic Defence and Security Review (SDSR), announced in 2010.
The navy and air force have to cut 5,000 jobs each, the Army 7,000 and about 25,000 civilian staff working at the MoD face redundancy.
A further reduction of 12,000 army personnel was subsequently announced.
The result is that army numbers are likely to fall from 101,000 to 82,000 by 2015.
Defence Minister Andrew Robathan said the MoD would "retain the capabilities that our armed forces require in order to meet the challenges of the future".
But shadow defence secretary Jim Murphy is concerned about "the human and military impact" of job losses, and has accused the government of "dithering".
He said: "Capability is being lost, as are people's livelihoods.
"Savings have to be made but ministers must do much more to explain our future ability to project force around the world as well as how they intend to support the thousands being sacked.
"The continued uncertainty is deeply debilitating," he added.
In the first wave of losses in August and September 2011 more than 2,800 personnel were told they had been selected for redundancy.
Almost two-thirds of those volunteered to leave the armed forces.
Article source: http://www.bbc.co.uk/news/uk-18401210
Short URL: http://militaryfeed.com/?p=32494