Inside Palantir's War With the U.S. Army – Bloomberg
When Palantir Technologies Inc. executives entered the Pentagon to pitch Army officials in August 2009, they arrived with high hopes and left with a reprimand.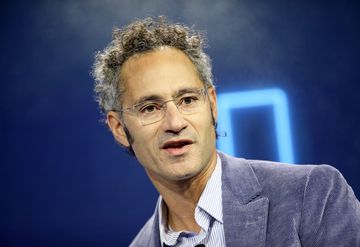 Palantir is the Palo Alto, California, data analytics company co-founded and backed by billionaire Peter Thiel. It had won seed funding and praise from the Central Intelligence Agency a few years earlier and had become a darling among the Federal Bureau of Investigation and a few other government customers. Its employees were at the Pentagon to show off the company's ability to compile disparate data streams and display the information graphically for non-technical consumers; Palantir hoped to win a big contract.  
But the conversation went poorly. The slacks and dress shirts with a few buttons undone that Palantir executives wore may have been a step up for sunny California where hoodies are the norm but were a sign of disrespect at the Pentagon, according to a person familiar with the meeting. Senior officials, including U.S. Assistant Secretary of the Army for Acquisition, Logistics and Technology Dean Popps, were not impressed, this person said.
They told Palantir: "Don't come to the E-ring without a tie unless your name is Gates or Buffet," said the person, referring to the portion of the Pentagon occupied by senior officials. "They couldn't get over the tie thing. They didn't care about the technology."
The fashion faux pas was probably trivial; companies don't win or lose multi-million-dollar contracts solely based on what people wear. Still, the cultural disconnect highlights clashing styles that festered in subsequent years and then calcified into "entrenched animosity towards Palantir" with Army officials canceling tests designed to assess Palantir's technology and then lying about it to Congress, according to redacted court documents filed by Palantir. Because Palantir wasn't able to show how its technology could work with the Army's existing intelligence systems—the purpose of conducting both tests—it was sidelined from competing for a new contract and pigeonholed by Army officials as a niche player, Palantir claims in the documents.
So Palantir sued. This summer the company claimed the Army operated with bad faith and bias, and broke the law when it failed to comply with a provision requiring government agencies to choose commercially available products over custom-built ones. At stake is the Army's Distributed Common Ground System, a roughly $6 billion hardware and software system that aims to compile intelligence from all over the world. Palantir wants to be eligible for a portion of that amount.
Doug Philippone, a military veteran who served in Afghanistan and Iraq and who now leads Palantir's Department of Defense program, called the DCGS dispute his "Vietnam." He said the battle has been lengthy and expensive, but it's ultimately a small part of Palantir's larger mission to power all government intelligence operations.
An Army spokesman referred a request for comment to the Department of Justice, which declined to comment. Palantir attorney Hamish Hume of Boies, Schiller  Flexner LLP declined to comment.
The outcome of the lawsuit, which is expected Monday, could change the way government agencies do business, possibly widening the base of eligible contractors. The ruling comes at a pivotal time for Palantir and may serve as a test for other tech companies seeking lucrative government contracts.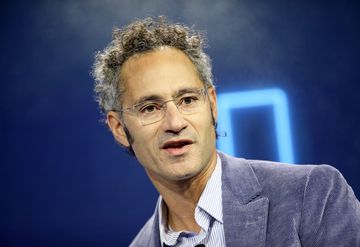 Palantir has struggled to maintain its lofty $20 billion valuation awarded last year by private investors. It has also had trouble retaining longtime employees antsy for an IPO. Although Alex Karp, the chief executive officer and co-founder, has argued that Palantir should stay private indefinitely—during a 2012 conference he proudly proclaimed that what makes Palantir unique is that it's "not built as a monetization-first company"—he may be warming to the idea. Palantir has been looking to hire legal and financial experts who had experience taking companies public, according to Palantir job postings this summer. At the Wall Street Journal's technology conference this week, Karp said: "We are positioned so we could go public."
If Palantir wins this suit, it will earn the right to compete for a small but significant contract the Army is scheduled to award later this year.  At $200 million or so over a multi-year period, this part of the DCGS project wouldn't have a huge financial impact on Palantir, which reported $1.7 billion in bookings last year. But the winning company would have a hand in designing the rest of the system—a project expected to cost in the billions over many years—and very likely, become a key player in program iterations, meaning a long and steady stream of future contracts.
Divided by geography, culture, and procedure, Silicon Valley startups and federal agencies have yet to work together in meaningful ways. Startups aim to disrupt business as usual, using rapid (and often unsuccessful) experiments to produce novel technologies. The focus is on results, not process or titles. Government agencies live and die by how well they adhere to procedures, favoring smooth, long-term changes over radical departures from the status quo. Among startups, only SpaceX and Palantir have scored contracts in the tens and hundreds of millions and both have sued their customers. (SpaceX sued the U.S. Air Force, with the Air Force ultimately agreeing to speed SpaceX's certification so it could compete for contracts to launch military satellites.)
Startups "are putting out new updates to software every three weeks, and the government sometimes takes three weeks to get the next meeting," said Meagan Metzger, founder of Washington-based DCode42, which helps startups get government contracts. 
Although U.S. Defense Secretary Ash Carter has led a string of initiatives to improve relations with startups and bring better technology to government, so far the programs have been big on symbolism and small on dollars. And when Carter leaves his post in December, there is no assurance those programs will continue.
"It's very challenging for an outside company to come in and disrupt the status quo," said Sonny Hashmi, who manages the government division for file sharing and storage company Box Inc. Hashmi, whose clients include the Department of Justice, said the expense and effort to get systems government compliant are not trivial. He also said the players winning contracts are usually incumbents: "They have been there for a long time and shape what technology is viable and possible."
The key to a successful collaboration with the government, Hashmi said, is focusing less on the actual technology product for sale. The conversation needs to be about ways the would-be contractor can help the agency achieve its big-picture mission.  
And that's where Palantir had some trouble. "We had no clue how the process worked. We figured we'd show the product; they'd put it on the schedule and buy it," said Palantir's Philippone. "We were naïve in thinking what the concerns were. We walked into this huge fight with people who had their entire careers and massive budgets on the line—all these things that drive institutional resistance."
Palantir began meeting different divisions within the Armed Forces in late 2008 and 2009, and it eventually won contracts with the Air Force, the Marines and the Navy, along with the Defense Intelligence Agency. As Palantir was making the rounds, getting to know the players and pleading its case for a deal later down the road, other contractors were already building a custom DCGS system. (Through the Special Operations Command—the unified combat team, which includes all four military branches—some Army units in Afghanistan have become Palantir customers, but that's the result of one-off requests being approved rather than the Army awarding a contract.)
Initiated in 2001, the idea behind DCGS is to customize software to gather and process intelligence scattered across many different sources into one system for easier access in the battlefield. The system collects satellite images, data from sensors, and human intelligence reports from on-the ground operatives. All of these used to be kept separate. More than 1,200 Army units are equipped with the DCGS.
While the Army was soliciting bids for the second phase of the DCGS, the U.S. Government Accountability Office issued a blistering report of the program, saying it cost too much and did too little. The report recommended that the Department of Defense conduct an independent technology assessment of the program before moving onto the second phase. But the Defense Department and the Army declined to do that. Instead, they required the contractors that were bidding  to show how their technology could integrate with the existing system.
Palantir alleges in its suit that it was never given the chance to prove it could. The Army set up two technical evaluations of Palantir's technology—one that was planned for 2009  and another in 2011. But the agency canceled both, and now Palantir is claiming that the Army did it to block them. Palantir claims that by 2012, staff members of the Army had an "entrenched animosity towards Palantir."
The core of Palantir's suit is the 1994 Federal Acquisition Streamlining Act. In the aftermath of taxpayer outrage over the government's purchases of $640 toilet seats and $7,600 coffee makers, legislators crafted stricter spending rules. The law required agencies to purchase items already available. When those items aren't available, agencies should buy them and modify them or change their own requirements to fit what already exists on the market. Palantir's lawyers have said the Army is violating this law. 
The law grants agencies discretion in deciding whether commercial items are available. For that reason, the Government Accountability Office rejected Palantir's first challenge in May, saying the Army had conducted "adequate market research into the use of commercial items and had a reasonable basis for the acquisition approach." The Army has continued to rely on this argument through the current challenge.
Suing potential customers to secure a deal may seem jarring and even counter-intuitive. But it's common in the public sector, said Kevin Brancato, director of government contracts research at Bloomberg Government. There's something different about this case, though, Brancato said. Since the passage of the Federal Acquisition Streamlining Act 22 years ago, he's never seen litigation over this particular provision. He thinks the Army would find it challenging to integrate commercial technology in this case. "They are updating an existing system that is complex and has multiple nodes. They are not starting from scratch here," he said.
If Monday's ruling is unfavorable to Palantir, the company will almost certainly appeal. After all, Thiel, its major investor and the chairman of its board, is a man who secretly spent tens of millions of dollars to bankroll lawsuits against Gawker Media, waiting nearly a decade to exact his revenge over a feud with the company. (Gawker declared bankruptcy earlier this year.) "We will take it all the way to the end. It's that important," Philippone said. "We aren't going away."
Article source: https://www.bloomberg.com/news/articles/2016-10-28/inside-palantir-s-war-with-the-u-s-army
Short URL: http://militaryfeed.com/?p=54039