Former Little Rock AFB commander and spouse receive 2012 O'Malley award


 
Photos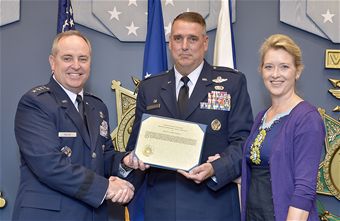 Air Force Chief of Staff Gen. Mark A. Welsh III presents the 2012 General Jerome F. O'Malley and Diane O'Malley Award to Col. Michael Minihan and his wife, Ashley, during a ceremony at the Pentagon, Oct. 24, 2012. The Minihans earned the award for their time in command at Little Rock Air Force Base, Ark. The annual award recognizes the wing commander and spouse team whose contributions to the nation, Air Force, and local community best exemplify the highest ideals and positive leadership of a military couple in a key Air Force position. (U.S. Air Force photo/Michael J. Pausic)
Download HiRes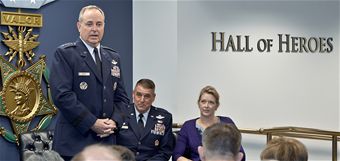 Air Force Chief of Staff Gen. Mark A. Welsh III delivers remarks for the presentation of the 2012 General Jerome F. O'Malley and Diane O'Malley Award during a ceremony at the Pentagon, Oct. 24, 2012. Col. Michael Minihan and his wife, Ashley, earned the award for their time in command at Little Rock Air Force Base, Ark. The annual award recognizes the wing commander and spouse team whose contributions to the nation, Air Force, and local community best exemplify the highest ideals and positive leadership of a military couple in a key Air Force position. (U.S. Air Force photo/Michael J. Pausic)
Download HiRes
Former Little Rock AFB commander and spouse receive 2012 O'Malley award
Posted 10/26/2012


Email story  
Print story

by Senior Airman Christina Brownlow
Air Force Public Affairs Agency
10/26/2012 - WASHINGTON (AFNS) – Col. Michael Minihan and his wife, Ashley, received the 2012 General Jerome F. O'Malley and Diane O'Malley Award during a ceremony at the Pentagon Oct. 24.
Minihan, who led the 19th Airlift Wing at Little Rock Air Force Base, Ark., now commands the 89th Airlift Wing at Joint Base Andrews, Md.
Named in honor of O'Malley and his wife, who were known for their leadership and contributions to Air Force families and communities, the annual award recognizes the wing commander and spouse team whose contributions to the nation, Air Force, and local community best exemplify the highest ideals and positive leadership of a military couple in a key Air Force position.
Air Force Chief of Staff Gen. Mark A. Welsh III presented the award and Sharon O'Malley Burg, the O'Malleys' daughter, made two special presentations of her own.
During the ceremony, O'Malley Burg gave Minihan a set of brigadier general rank worn by her father. She also presented Ashley Minihan with a crystal rose, a symbol of pink roses that Diane O'Malley treasured. She said the military rank symbolizes the selfless leadership of her father and the crystal rose represents her mother's grace.
With a focus on family, mission, and future, the Minihans embraced their local community and strengthened ties to create an amazing partnership, according to the award citation. They compassionately inspired their teams to deliver air power around the globe as leaders of the world's largest C-130 Hercules wing.
Welsh said the Air Force mission happens at bases around the world because of the amazing Airmen who serve and many of those Airmen are doing phenomenal things every day.
"The people we trust…to care for [the Airmen], to lead them into combat, to ensure they are ready for that challenge and to care for their families while they're gone are the Mike and Ashley Minihans of our Air Force," Welsh said.
The Minihans selflessly poured themselves and their family into Little Rock Air Force Base and local communities, including the Airmen and families of those they led, he said.
"This is a team award," Welsh added. "The best wing commander on the planet isn't going to win it if the spouse isn't equally as capable, committed and caring."
Article source: http://www.af.mil/news/story.asp?id=123323865
Short URL: http://militaryfeed.com/?p=36569