CSAF, CMSAF kickoff AFA Orlando, leave few dry eyes


 
Photos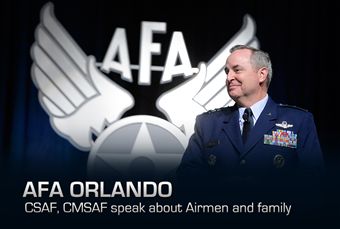 (U.S. Air Force graphic/Robin Meredith/photo/Scott M. Ash)
Download HiRes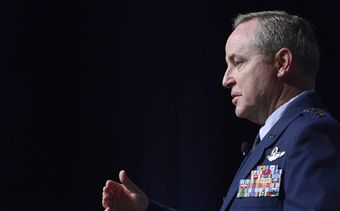 Air Force Chief of Staff Gen. Mark A. Welsh III and Chief Master Sgt. of the Air Force James A. Cody deliver their keynote speeches as the opening of Air Force Association's Air Warfare Symposium Technology Exposition in Orlando, Fla., Feb. 21, 2013. Welsh's "State of the Air Force" discussion highlighted Airmen and the impact the possible sequestration may have on them. (U.S. Air Force photo/Scott M. Ash)

Download HiRes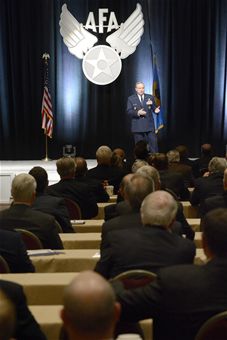 Air Force Chief of Staff Gen. Mark A. Welsh III and Chief Master Sgt. of the Air Force James A. Cody deliver their keynote speeches as the opening of Air Force Association's Aerospace Technology Exposition in Orlando, Fla., Feb. 21, 2013. Welsh's "State of the Air Force" discussion highlighted Airmen and the impact the possible sequestration may have on them. (U.S. Air Force photo/Scott M. Ash)

Download HiRes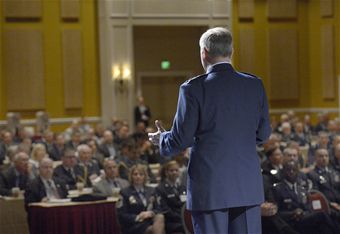 Air Force Chief of Staff Gen. Mark A. Welsh III and Chief Master Sgt. of the Air Force James A. Cody deliver their keynote speeches as the opening of Air Force Association's Aerospace Technology Exposition in Orlando, Fla., Feb. 21, 2013. Welsh's "State of the Air Force" discussion highlighted Airmen and the impact the possible sequestration may have on them. (U.S. Air Force photo/Scott M. Ash)

Download HiRes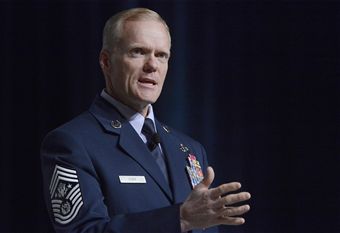 Chief Master Sgt. of the Air Force James Cody delivers his Enlisted Perspective at Air Force Association's Air Warfare Symposium Technology Exposition in Orlando, Fla., Feb. 21, 2013. Cody's presentation highlighted the toll military service takes on families and the importance of creating a healthy work-life balance. (U.S. Air Force photo/Scott M. Ash)
Download HiRes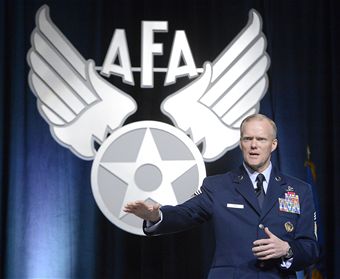 Chief Master Sgt. of the Air Force James Cody delivers his Enlisted Perspective at Air Force Association's Air Warfare Symposium Technology Exposition in Orlando, Fla., Feb. 21, 2013. Cody's presentation highlighted the toll military service takes on families and the importance of creating a healthy work-life balance. (U.S. Air Force photo/Scott M. Ash)
Download HiRes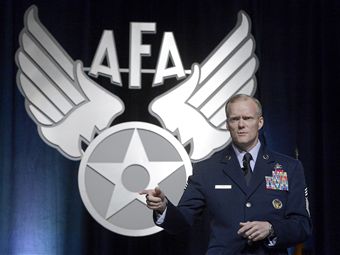 Chief Master Sgt. of the Air Force James Cody delivers his Enlisted Perspective at Air Force Association's Air Warfare Symposium Technology Exposition in Orlando, Fla., Feb. 21, 2013. Cody's presentation highlighted the toll military service takes on families and the importance of creating a healthy work-life balance. (U.S. Air Force photo/Scott M. Ash)
Download HiRes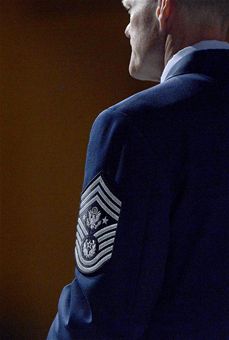 Chief Master Sgt. of the Air Force James Cody delivers his Enlisted Perspective at Air Force Association's Air Warfare Symposium Technology Exposition in Orlando, Fla., Feb. 21, 2013. Cody's presentation highlighted the toll military service takes on families and the importance of creating a healthy work-life balance. (U.S. Air Force photo/Scott M. Ash)
Download HiRes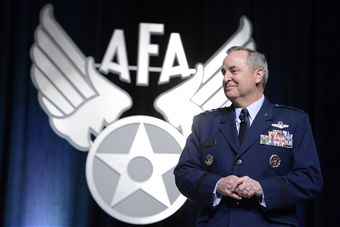 Air Force Chief of Staff Gen. Mark A. Welsh III and Chief Master Sgt. of the Air Force James A. Cody deliver their keynote speeches as the opening of Air Force Association's Aerospace Technology Exposition in Orlando, Fla., Feb. 21, 2013. Welsh's "State of the Air Force" discussion highlighted Airmen and the impact the possible sequestration may have on them. (U.S. Air Force photo/Scott M. Ash)
Download HiRes
CSAF, CMSAF kickoff AFA Orlando, leave few dry eyes
Posted 2/21/2013   Updated 2/22/2013


Email story  
Print story

by Staff Sgt. David Salanitri
Air Force Public Affairs Agency, Operating Location – Pentagon
2/21/2013 - ORLANDO, Fla. (AFNS) – 
Two senior Air Force leaders addressed more than 500 people at the Air Force Association's 29th Air Warfare Symposium  Technology Exposition here Feb. 21, 2013.
Air Force Chief of Staff Gen. Mark. A. Welsh III and Chief Master Sgt. of the Air Force James Cody took to the stage with several points to get across, but both had a similar theme: Airmen rock!
"I've been an AFA member since I was a cadet," said 2nd Lt. Rachael Nutting, 45th Launch Support Squadron, Cape Canaveral, Fla. "They're part of the team fighting for us … it's great being here to see the big picture."
Welsh covered a number of topics including the impact of sequestration, the possibility of civilian furloughs and what the Air Force is doing to prepare.
Though each leader addressed an array of topics, they spent a majority of their time talking about Airmen.
Welsh talked about the Airmen who provide global vigilance, global reach and global power for America. These Airmen stories moved the crowd and one that caught their attention most was a story about Senior Airman Muhamend Mehmedovic, who Welsh met on a trip to the Central Command area of responsibility.
"Eighty percent of his family was eliminated," Welsh said, quoting Mehmedovic as the Airman told the General his childhood story of growing up in Bosnia during war. Welsh described how Mehmedovic and his remaining family fled to the mountains to avoid genocide and survived on food airdropped by Air Force C-130 Hercules aircraft.
"The U.S. Air Force saved my life," the Airman told Welsh.
Mehmedovic is now an air transportation specialist stationed at Little Rock Air Force Base, Ark., and plans to become a pilot on the same aircraft that helped save his family.
Following Welsh's speech, Cody had a very similar message, stressing the importance of taking care of Airmen, their families and their time.
"This is family business to me," Cody said, conveying that the Air Force is a family and connected the experiences of his own family by explaining that his wife is a retired chief master sergeant; his son is a senior airman; and his daughter is now in her third high school due to frequent moves common to military service members.
"What we've been doing the past 20 years has taken a toll on our Airmen and their families," Cody said. "We have to know our Airmen. It's our job to know our Airmen."
The words of both leaders resonated with members of the audience.
"Both of them aptly characterized the mutual respect we have for one another in the Air Force," said 1st Lt. Alex Nutting, a 91st Air Refueling Squadron executive officer, MacDill Air Force Base, Fla.
A topic Cody highlighted several times was managing Airmen's time responsibly and compensating Airmen for their time.
"Compensating them for what we're asking them to do over time, so they can have a balanced life," Cody said. "Sometimes we just have to say stop, this is not sustainable."
Keeping with the theme of Airmen rock, Welsh shared another story with members of the conference: the story of Maj. Luc Gruenther, which is a story familiar to many Airmen.
Gruenther was a pilot with the 555th Fighter Squadron in Aviano Air Base, Italy, when the Air Force lost contact with him during a training mission over the Adriatic Sea, Jan. 28. Three days later, Gruenther's body was recovered.
As Welsh told the story of Gruenther, eyes welled with tears in the audience.
"About 1,000 folks showed up to the memorial of Gruenther," Welsh said. "As the missing man formation passed the memorial, Gruenther's family got to wave on, saying a final goodbye to their son, husband and wingman. I like to think that Gruenther kept pulling up on the formation and touched the face of God."
Gruenther's wife went on to give birth to a baby girl the very next day.
Welsh concluded his speech to the group of assembled Airmen saying: "I've known you now for about 40 minutes, but I'd die for you … and I'm just naïve enough to believe you'd do the same for me."
"It is such a privilege to serve and it's an honor to be with you today," Welsh said.
Article source: http://www.af.mil/news/story.asp?id=123337202
Short URL: http://militaryfeed.com/?p=38770