Coast Guard sees similarities in boat hoax calls from Sandy Hook … – The Star-Ledger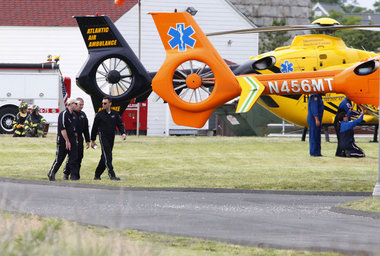 SANDY HOOK — A distress call purporting to be made from a boat off the coast of Sandy Hook last week which was later determined to be a hoax bore significant similarities to a hoax last month in Texas, Coast Guard officials said today.
Earlier this month a massive search and rescue operation was deployed after the Coast Guard received a mayday from a yacht calling itself "Blind Date." Dozens of rescue vehicles and 200 emergency personnel responded to what an unknown male caller described as an explosion.
"We have 21 souls on board, 20 in the water right now. I have three deceased on board, nine injured because of the explosion," the caller said.
Coast Guard officials were tipped off by a reporter last week in Houston that the call was very similar to the May 20 incident near Galveston, Texas.
In both cases the calls were made from land, the caller called the Coast Guard Traffic Vessel Service instead of the commonly used distress frequency, and the caller used a beacon or auto-signaling device found on life rafts, according to officials.
Curious terminology such as "taking on water" and "souls" was also used in both cases, officials said.
"In some cases it seemed like they knew a lot about Coast Guard operations," said Coast Guard Captain Greg Hitchen. "In other cases he used terms you wouldn't normally hear form a mariner."
Hitchen said that the caller could be a retired, disgruntled member of the Coast Guard or the military.
"We sincerely hope that it is not a member of the military, but we are not ruling that out," Hitchen said.
Officials also said that terrorism did not appear to be involved but has not been ruled out. The June hoax also does not appear related to a similar distress call made near Sandy Hook last year. Authorities have not made an arrest.
Investigators said the caller gave specific locations of distances but exhibited a lack of familiarity with the area and used references a boat captain wouldn't use. The caller's voice and tone were also very similar.
Coast Guard officials say since the hoax was uncovered they have received roughly 100 calls with information about the incident, 20 percent of which appeared legitimate.
While a full-scale investigation is underway for the caller, officials said that prosecutions are very difficult. Last year alone the Coast Guard received 60 hoax calls, but have only prosecuted four since 2004.
"It's very difficult without some specific information from a member of the public, such as a witness on the scene," Hitchen said.
The technology used to make the call is also confounding investigators.
"These systems are designed to work over water," said Coast Guard Special Agent Michael Donnelly. "When you have somebody calling from land it's not the most accurate system in the world."
Related coverage:
• Sandy Hook boat explosion hoax: A timeline of events
• Coast Guard cost for N.J. boat explosion hoax adds up to $318K
• Audio: Distress call from N.J. hoax boat explosion is released
• Coast Guard investigating connection between reported yacht explosion, similar hoax last year
• Coast Guard reveals second call in possible hoax boat explosion, increases reward for suspect
• Seconds of panic, hours of drama: N.J. boat explosion call investigated as hoax
• Was it a hoax? Report of Sandy Hook boat explosion not yet confirmed
Short URL: http://militaryfeed.com/?p=32877
Posted by
admin
on Jun 20 2012. Filed under
Coast Guard
. You can follow any responses to this entry through the
RSS 2.0
. Both comments and pings are currently closed.