Coast Guard medically evacuates crewman from Canadian carrier near Sault Ste. Marie, Mich.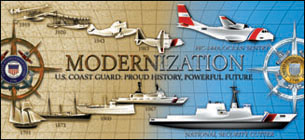 Ninth District External Affairs
U.S. Coast Guard

News Release
Date:
May 21, 2012
Contact: Ninth Coast Guard District Public Affairs Office
(216) 902-6020
CLEVELAND – A U.S. Coast Guard helicopter crew from Air Station Traverse City, Mich., medically evacuated an ailing 57-year-old man from aboard a Canadian-flagged bulk carrier in Lake Superior Monday evening.
The man's name and hometown are not being released. There is no Coast Guard imagery associated with this case.
The crew of the motor vessel Algoma Olympic contacted emergency responders at Joint Rescue Coordination Centre Trenton, Ontario, reporting one of the crewmen, a Canadian citizen, was suffering from blackouts and hallucinations, among other symptoms. Due to the vessel's location, about 20 miles west of Whitefish Point in Whitefish, Mich., the emergency responders contacted U.S. Coast Guard search and rescue controllers at Sector Sault Ste. Marie, Mich.
After conferring with an on-call flight surgeon, it was determined the man needed to be evacuated. SAR controllers directed the launch of an aircrew aboard an MH-65 Dolphin helicopter from Air Station Traverse City.
The aircrew arrived on scene at 2:21 p.m. and hoisted the man into the helicopter.
He was transported to Sault Ste. Marie Municipal Airport, where a waiting ambulance crew took him to War Memorial Hospital in Sault Ste Marie.
The Algoma Olympic is a 730-foot ore carrier and was en route to Quebec.
U.S. Coast Guard emergency responders on the Great Lakes routinely work with Canadian emergency responders during search and rescue cases due to the close proximity of the international border.
###
Saving Lives and Guarding the Coast Since 1790.
The United States Coast Guard — Proud History. Powerful Future.

printer friendly
Article source: http://www.d9.uscgnews.com/go/doc/443/1443347/
Short URL: http://militaryfeed.com/?p=30350
Posted by
admin
on May 22 2012. Filed under
Coast Guard
. You can follow any responses to this entry through the
RSS 2.0
. Both comments and pings are currently closed.