CBHS announces military academy appointments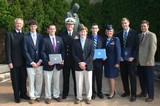 Five Christian Brothers High School seniors recently received appointments to the United States Service Academies or received major ROTC scholarships:
Riley Bartlett received an appointment to the U.S. Merchant Marine Academy. He also received a Navy ROTC Scholarship. Riley is the son of Aaron and Wendy Bartlett of Olive Branch.
Matt Johnson was awarded a Navy ROTC Scholarship to Christian Brothers University. Matt is the son of Danny and Susan Johnson of Memphis.
Zach Landers received an Army ROTC Scholarship to University of Mississippi. Zach is the son of Chris and Kristin Landers of Olive Branch.
Michael Padilla received an appointment to U.S. Air Force Academy. He also received an appointment to the U.S. Naval Academy and received an Air Force ROTC Scholarship. Michael is the son of Michael and Edith Padilla of Cordova.
Ben Smith received an appointment to the U.S. Military Academy at West Point. Ben is the son of Philip and Wendy Smith of Germantown.
The official ceremony was held on the CBHS campus May 4 in front of the Brothers' Memorial statue.
John Morris is director of Communications and Alumni Relations for Christian Brothers High School.
Article source: http://www.commercialappeal.com/news/2012/may/30/achievements-cbhs-announces-military-academy/
Short URL: http://militaryfeed.com/?p=31922