CAP cadets catch glimpse of pilot training


 
Photos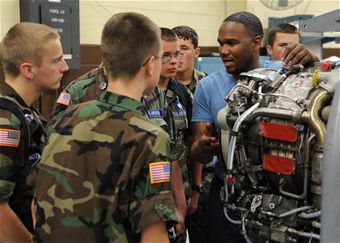 Civil Air Patrol cadets listen close as Rodney Williams, Dyncorp senior mechanic explains the past of a J-85 engine on July 11, 2012, at the engine shop. The cadets spent July 6-14, 2012, learning about the many aspects of Specialized Undergraduate Pilot Training. (U.S. Air Force photo/Senior Airman Chase Hedrick)
Download HiRes
CAP cadets catch glimpse of pilot training
Posted 7/16/2012   Updated 7/16/2012


Email story  
Print story

by Senior Airman Chase Hedrick
14th Flying Training Wing Public Affairs
7/16/2012 - COLUMBUS AIR FORCE BASE, Miss. (AFNS) – Forty Civil Air Patrol Cadets came here to Columbus Air Force Base July 6 to 14 to catch a glimpse of just what Specialized Undergraduate Pilot Training is really like.
The weeklong camp, known as the Specialized Undergraduate Pilot Training Program Familiarization Course, is an annual event that gives select CAP cadets from a pool of all 50 states a chance to see what pilot training is like.
The CAP cadets who attended the course spent the week getting a firsthand look at the everyday life of a student pilot. The cadets studied basic aircraft knowledge and the parts of the one year course required to become an Air Force Pilot.
Not all training was done in a classroom. The CAP cadets toured some operations facilities such as the air traffic control facilities, flight medicine, aerospace physiology and the engine shop.
The course was more than military experience and academics for the CAP cadets. CAFB officers, many of whom are in current enrolled in Air Force Specialized Undergraduate Pilot Training courses mentored the CAP cadets, providing valuable information.
CAP cadets were also able to visit the flight simulators to put their learned skills into practice with the safety of solid earth beneath them. T-1 Jayhawk incentive ride were available, and tests were given to the cadets to evaluate their academic performance decide the who were the deserving top performers.
Article source: http://www.af.mil/news/story.asp?id=123310078
Short URL: http://militaryfeed.com/?p=35835