Breedlove presents Purple Heart to wounded Airman


 
Photos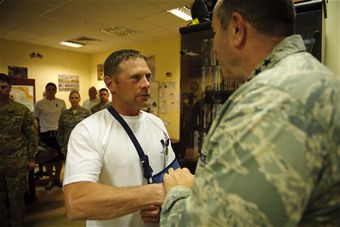 Air Force Vice Chief of Staff Gen. Phil Breedlove talks with Tech. Sgt. Jake Tieman after presenting him the Purple Heart May 7, 2012, at a base in Southwest Asia. Tieman is a member of the 577th Expeditionary Civil Engineer Squadron's Base Engineer Emergency Force. He was wounded by shrapnel near a forward operating base in Afghanistan. (U.S. Air Force courtesy photo)
Download HiRes
 Breedlove presents Purple Heart to wounded Airman
Posted 5/9/2012


Email story  
Print story

by Senior Airman Michael Charles
379th Air Expeditionary Wing Public Affairs
5/9/2012 - SOUTHWEST ASIA (AFNS) – Air Force Vice Chief of Staff Gen. Phil Breedlove presented the Purple Heart to Tech. Sgt. Jake Tieman at a base here May 7 for wounds received during operations in Afghanistan.
Breedlove thanked Tieman, a member of the 577th Expeditionary Prime BEEF Squadron, for his service and sacrifice in front of an audience of fellow wounded warriors.
"All of you have made sacrifices that few Americans have to make," Breedlove said. "I've heard one common theme today in meeting with you: you're itching to get back to your units and back into the fight. Such dedication to our nation and our mission is an inspiration to us all."
Tieman, wounded by shrapnel near a forward operating base in Afghanistan, was grateful for the award.
"When a four star general takes time out of his day to come visit you, it makes you feel good, Tieman said. "It was a special treat for him to make an unplanned visit and support us."
Following his injury, Tieman was medically evacuated from Bagram Airfield, Afghanistan, by members of the 379th Aeromedical Evacuation Squadron and placed in the care of the Intra-theater Wounded Warrior Care Center here. The center, operated by the 379th Medical Group, provides care to service members suffering injury while deployed.
"It feels like it's been a long process," Tieman said. "However, the medical facility here has made it a comfortable transition, and I hope to get better soon so I can go back out with the rest of my Airmen."
The Purple Heart is awarded to service members who have been wounded in action while serving in the U.S. armed forces.
Article source: http://www.af.mil/news/story.asp?id=123301357
Short URL: http://militaryfeed.com/?p=27922