Boardman junior selected to attend US Naval Academy summer seminar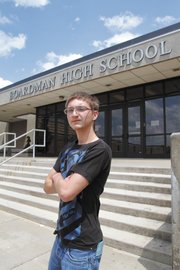 By Robert K. Yosay
By Josh Stipanovich
jstipanovich@vindy.com
boardman
Sean Pregi has been fascinated by the military since he was young.
His grandfather and great-grandfather were in the military, and he guarantees he'll be as well.
"My goal is to be in the military," the 17-year-old said. "It's something I've always wanted to do."
Sean is a Sea Cadet, a Navy program at the Air Reserve Station in Vienna for teens 13-17 that gives them naval and military experience. He enlisted in it when he was 16.
Then Sean found out about the Naval Academy's summer seminar program. He applied for it online and found out this spring that he was accepted.
"It was pretty shocking, because I didn't expect it," Sean, the son of Eric and Melissa Pregi, said. "I didn't think my GPA … would be high enough compared to those kids with all the higher courses."
He'll be staying and training at the Naval Academy in Annapolis, Md., with midshipmen from June 8 to 13.
Sean "just loves the military," Rick Smrek, Sean's guidance counselor, said. "He lives and breathes it. I think it's wonderful for him."
"I'm proud he's interested," Melissa said. "He's changed a lot. He's more responsible. He's more mature."
His training — mentally and physically — has been vigorous. Sean runs, does push-ups, pull-ups and studies every day.
"I already memorized the entire [ranking] system," Sean said. "It took a while."
Being accepted into the summer naval program is just one step in the Naval Academy's application process, his mother said. His ultimate goal is to attend the academy after high school.
But Sean acknowledges he has areas to improve on, such as his ACT scores.
"That's definitely what I'll have to work on if I want to go to Naval Academy," Sean said.
Sean received an email Wednesday night from representatives of the Naval Academy explaining to him he was an official candidate for the Class of 2018.
Melissa added, however, that there are more steps Sean must complete in order to be accepted. She said once he finishes the application, he has to pass a physical and obtain a letter of recommendation from a congressman or senator.
She's confident he'll succeed.
"He has a lot of dedication," Melissa said.
Smrek has worked with and helped several students in the past prepare for the Naval Academy's vigorous application process.
"There's a lot of preparation that goes into getting into a Naval Academy appointment," Smrek said. "The grade-point-average and ACT scores are so high and so demanding that [students] have to be aware of all that."
Regardless of whether Sean receives an appointment, Smrek is confident Sean will be able to fulfill his lifelong dream of being in the military.
"If you go on his passion and on his drive and his focus and determination. … I think that he's going to be an officer in the military no matter how this goes," Smrek said.
Article source: http://www.vindy.com/news/2013/may/28/boardman-student-to-attend-seminar-at-na/
Short URL: http://militaryfeed.com/?p=40360