'Blue' NCO temporarily goes 'green', wins Army NCO of quarter


 
Photos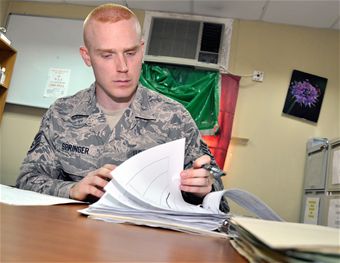 Staff Sgt. James Springer reviews patient records at the 325th Combat Support Hospital, Forward's Mental Health/Resiliency Clinic May 3, 2012, at an undisclosed location in Southwest Asia. Springer, the clinic's NCO in charge, surpassed his fellow Army NCOs to win the 325th CSH (FWD) Soldier and NCO of the Quarter for the first quarter of 2012. Springer is a Joint Expeditionary Tasking Airman in the 387th Expeditionary Support Squadron and is deployed from the 18th Medical Operations Squadron at Kadena Air Base, Japan. (U.S. Air Force photo/Tech. Sgt. Stacy Fowler)
Download HiRes
'Blue' NCO temporarily goes 'green', wins Army NCO of quarter
Posted 5/7/2012


Email story  
Print story

by Tech. Sgt. Stacy Fowler
386th Air Expeditionary Wing Public Affairs
5/7/2012 - SOUTHWEST ASIA (AFNS) – He's a spot of Air Force blue surrounded by Army green at a deployed location in Southwest Asia.
Staff Sgt. James Springer, a Joint Expeditionary Tasking Airman in the 387th Expeditionary Support Squadron, decided to try on a bit of "green" when he competed against Army NCOs for a quarterly award in April.
Springer, the NCO in charge of the Army's Mental Health and Resiliency Clinic, won the 325th Combat Support Hospital, Forward's Soldier and NCO of the Quarter Board.
"I wish there were words to describe how his performance made every senior Army NCO at the board feel after Springer completed his oral board," said 1st Sgt. Rodney Baldwin, of the 325th CSH (FWD), who was also one of the board members Springer met during the competition. "Extremely professional – he did the Air Force Medical Corps proud. Springer is the second JET (Airman) the 325th CSH (FWD) has had, and the true professionalism and dedication to Soldier care and integration between the Air Force JET teams and the 325th CSH (FWD) has shown proves that we are one team one fight."
Being deemed the best of the 219-member CSH (FWD) was not an easy task, Springer said.
"The Army really believes in the 'whole person concept' for their awards," said Springer, who is deployed from the 18th Medical Operations Squadron at Kadena Air Base, Japan. "In an Army board, or at least the board I participated in, a whole person concept, means physical, mental and professional (performance)."
Each person is tested in the three portions and the cumulative score is used to designate the winner.
First is an Army physical fitness test, which is two minutes of push-ups, two minutes of sit-ups and a two-mile run. The next section was a 50-question test based upon general Army knowledge — much like the Air Force's Professional Development Guide portion of promotion testing. The test consists of Army programs, land navigation, weapons, battle-focused training, and more.
The last portion of the board was an oral evaluation.
"This was probably the most challenging, because I found out I had to learn the Army NCO Creed only three days prior," Springer said. "The focus of the oral board is on military bearing. It consisted of reporting to the president of the board, reciting the NCO Creed, facing movements, knowledge of current events and answering questions from four other board members.
"It was the oral board that unanimously won the NCO of the Quarter for me," he said.
Springer said one of the board members said he had never heard the Army NCO Creed done as well as he had from this Air Force sergeant.
Taking a tour in Army green, Springer said he knows that it doesn't matter what uniform you wear or what service you belong to — everyone is working together to get the mission done.
"We complete this mission every day, and that's why we're one of the best militaries in the world," Springer said. "I take care of my military brothers and sisters, and they take care of me."
Article source: http://www.af.mil/news/story.asp?id=123301036
Short URL: http://militaryfeed.com/?p=27544