Avon Park Air Force Range receives Interior Secretary award


 
Photos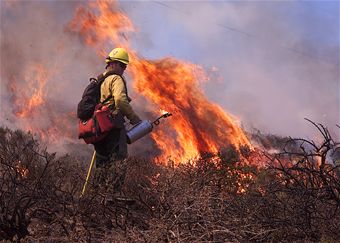 A firefighter at Avon Park Air Force Range, Fla., uses a torch to start a controlled burn of the prairieland on the range. Avon Park is part of the Everglades Headwaters National Wildlife Refuge/Conservation Area Partnership, who received a Secretary of the Interior 2012 Partners in Conservation Award on Oct. 18. (U.S. Air Force photo)

Download HiRes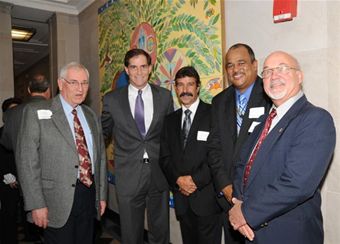 Paul Ebersbach, Avon Park Air Force Range environmental flight chief; Dan Ashe, U.S. Fish Wildlife Service director; Charlie Pelizza, USFWS Everglades Headwaters National Wildlife Refuge Complex project leader; Carlos Suarez, Florida Natural Resources Conservation Service state conservationist, and Dennis David, Florida Fish Wildlife Conservation Commission Central Regional director met Oct. 18, 2012, prior to the Everglades Headwaters National Wildlife Refuge/Conservation Area Partnership receiving a Secretary of the Interior 2012 Partners in Conservation Award at an award ceremony in Washington D.C. (USFWS Photo/LaVonda Walton)
Download HiRes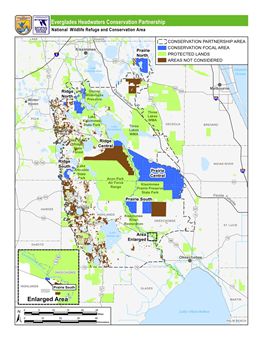 Map of the Everglades Headwaters Conservation Partnership National Wildlife Refuge and Conservation Area (Courtesy photo)
Download HiRes
Avon Park Air Force Range receives Interior Secretary award
Posted 10/26/2012   Updated 10/25/2012


Email story  
Print story

by Eric M. Grill
Air Force Civil Engineer Center Public Affairs
10/26/2012 - JOINT BASE SAN ANTONIO-LACKLAND, Texas – An initiative to help restore the Florida Everglades earned Avon Park Air Force Range a share of a conservation partnership award announced Oct. 18 during a ceremony in Washington D.C.
The Everglades Headwaters National Wildlife Refuge/Conservation Area Partnership, which includes Avon Park, is one of 17 different conservation partnerships earning a Secretary of the Interior 2012 Partners in Conservation Award.
The award recognizes conservation achievements including collaborative activity among a diverse range of entities, between federal, state, local and tribal governments, as well as individuals.
The Everglades Headwaters National Wildlife Refuge/Conservation Area Partnership worked to establish a 150,000-acre refuge to protect key grassland and savanna landscapes and working ranches in Central Florida. About 102,000 acres of the refuge is located on Avon Park Air Force Range, an auxiliary field of MacDill Air Force Base, Fla.
The refuge adds the necessary conservation pieces to forever protect one of the last grassland and savanna landscapes of eastern North America and create wildlife corridors, protect rare species, restore wetlands, and provide outdoor recreation while supporting working ranches through conservation easements, according to the Department of Interior. This endeavor was advanced in an efficient one-year timeframe and involved significant public involvement and outreach.
Paul Ebersbach, Avon Park's environmental chief, accepted the award on behalf of the Air Force.
"The award validates the decisions we've made over the years as we manage our land," Ebersbach said. "Avon Park is valuable to others and people are seeing the Air Force's land use as compatible with a good natural habitat."
Home to species such as American alligators, brown pelicans, egrets, spoonbills, herons and ibis, the Everglades also shelters endangered species such as the Florida panther, the American black bear and bobcat. Bird species found in this landscape are the snail-kite, the Florida scrub jay and the crested caracara. In addition to being home to endangered species, the Everglades also provide water supplies vital to millions of people, businesses and farms.
"The Partners in Conservation Awards offer wonderful examples of how America's greatest conservation legacies are created when communities from a wide range of backgrounds work together," said Deputy Secretary of the Interior David J. Hayes, during the announcement ceremony. "These awards recognize dedicated citizens from across our nation who collaborate to conserve and restore America's Great Outdoors, to encourage youth involvement in conservation and to forge solutions to complex natural resource challenges."
Avon Park Air Force Range, one of 13 federal, state, local and public partners on the collaborative public/private partnership, is the largest bombing and gunnery range east of the Mississippi River and has about 400 square miles of restricted airspace and 1,000 square miles of military operating area. Besides military training, the range hosts civilian public safety and homeland security unit training and is home to the State of Florida Juvenile Academy, the Florida Army National Guard, and the Avon Park Correctional Institution.
"The partnership is proof positive that enabling the mission and being good stewards of natural resources can be accomplished by people with the right focus and expertise," Ebersbach said.
Editor's Note: Restoration efforts at Avon Park Air Force Range, Fla., fall under the Air Force Civil Engineer Center's Air Force Environmental Center of Excellence. The ECoE is responsible for managing Air Force restoration, compliance, sustainability and National Environmental Policy Act programs and providing environmental technical assistance and advice to Air Force installations, major commands and other clients.

Article source: http://www.af.mil/news/story.asp?id=123323711
Short URL: http://militaryfeed.com/?p=36567