Afghanistan Green-On-Blue Attacks: Minister Of Defense Announces New Measures
WASHINGTON — The government of Afghanistan has begun to take a series of enhanced measures to prevent the killing of NATO soldiers by Afghan forces, Minister of Defense Abdul Rahim Wardak said on Tuesday.
Speaking to reporters at the embassy of Afghanistan, Wardak ran off a long list of steps taken by his country's armed forces to halt a slew of recent incidents in which Afghan security forces, trained and equipped by NATO forces, have turned their guns on the trainers. The incidents are known as "green on blue" attacks by the U.S. military.
"We are taking a lot of preventative measures," Wardak said, adding that the attacks were "very tragic." "We are doing much better vetting in our recruiting centers, requiring two individuals as guarantors for every applicant and are doing full background checks on all of our soldiers."
Afghanistan's military is raising the security level within the units, restricting mobile phone usage for soldiers and instituting new drug test requirements, Wardak also said. Some 150,000 Afghan soldiers have already undergone enhanced background checks, Wardak said.
"That is just a short number of the measures we are taking," he said.
Green-on-blue killings have risen to the forefront of American and Afghan officials' concerns after a spate of incidents this year suggested that they may be on the rise or part of a concerted effort by the Taliban to disrupt America's withdrawal plan. The Americans' exit ultimately hinges on preparing Afghan forces to take over national security.
In February, two American officers attached to the Afghan Interior Ministry were shot point-blank while at work inside the ministry compound, prompting NATO nations to pull out their forces from all Afghan government facilities.
A new visual project by the New America Foundation tracking incidents of green-on-blue violence has identified 34 separate incidents in which 81 NATO troops were killed by the Afghan army or police.
Fifty-two of those killed in this fashion since 2007 have been Americans, according to U.S. officials; this tally includes 10 incidents this year. The vast majority of green-on-blue attacks have occurred in the past two years.
"This pattern of attacks raises a fundamental problem for the plans of the United States and other NATO countries to draw down their forces over the next two years," wrote New America's Peter Bergen in an introduction to his group's visual project.
In a speech late last month at the Brookings Institution, Marine Corps General John Allen, the top U.S. commander in Afghanistan, acknowledged that the attacks had caused "an erosion of trust" between American and Afghan forces.
Allen later suggested to reporters that such killings were largely the result of infiltration of Afghan ranks by anti-American elements and that a continuation of such incidents was inevitable.
"The enemy is going to do all that they can to disrupt our operations and to disrupt the integrity of the government forces," Allen said. "We should expect this."
The New York Times reports that significant cuts to Afghanistan's security forces will come as the NATO mission ends in 2014. Personnel numbers are expected to peak this year at 352,000, dwindling down to 230,000 by the end of 2014.
"If something is unsustainable, either you have to find the resources to sustain it or you have to reduce the size of the project," a senior Western official in Kabul told the Times.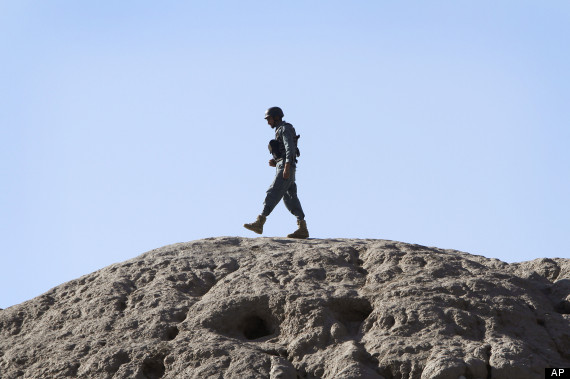 An Afghan policeman patrols over a hill in Surkh Rod, east of Kabul Afghanistan, Wednesday, April 11, 2012. Militant attacks have increased around the country since the start of spring in March. (AP Photo/Rahmat Gul)

@ afghanmagazine :
17 people have been killed by latest #Taliban attacks in #Afghanistan. Okay #Afghans, why aren't you in the streets protesting?

@ nytimesworld :
U.S. Military Deaths in Afghanistan http://t.co/GsZqu1U6

@ bsarwary :
#AFG Kabul Cappucciono http://t.co/AXjy4C4b
They strapped bombs to themselves in Helmand, with one shot dead as they approached the police office. And in the Guzara district in Herat province, two men and a woman blew up a truck outside another police building.
Suicide bombers took the headlines on Tuesday, along with the lives of seven police officers and seven civilians.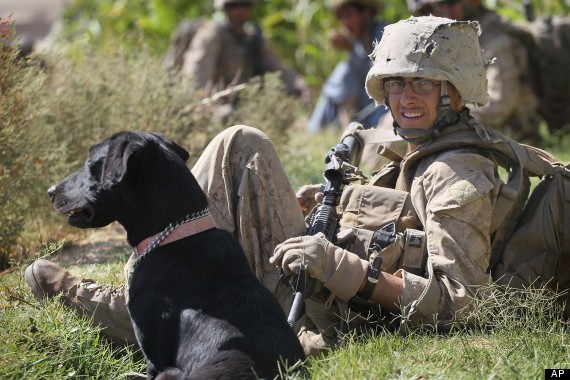 Chaplain Maj. Marty Fields, left, direct a prayer over the transfer cases containing the remains of Army Capt. Nicholas J. Rozanski of Dublin, Ohio, Army Sgt. 1st Class Jeffrey J. Rieck of Columbus, Ohio and Army Staff Sgt. Tyler J. Smith of Licking, Mo., upon arrival at Dover Air Force Base, Del. on Saturday, April 7, 2012. The Department of Defense announced the deaths of Rozanski, Rieck and Smith who were supporting Operation Enduring Freedom in Afghanistan. (AP Photo/Jose Luis Magana)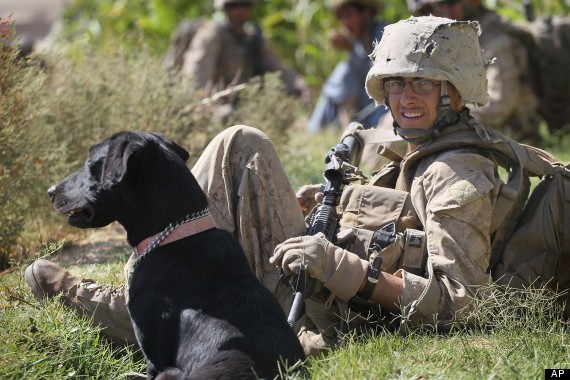 An Army carry team carries the transfer case containing the remains of Army Spc. Antonio C. Burnside, of Great Falls, Mont., upon arrival at Dover Air Force Base, Del., on Monday, April 9, 2012. The Department of Defense announced the death of Burnside who was supporting Operation Enduring Freedom in Afghanistan. Burnside was based at Fort Bragg, N.C., and assigned to the 1st Brigade Special Troops Battalion, 1st Brigade Combat Team of the 82nd Airborne Division. (AP Photo/Jose Luis Magana)
Mark McDonald delves into the complex topic of green-on-blue attacks for The International Herald Tribune, breaking down the demoralizing but almost inevitable aspect of counter-insurgency work in Afghanistan.
The term "green-on-blue attack" refers to Afghan forces turning on their American counterparts. Since the burning of Qurans at an American military base, tensions have grown between the allied troops. Matters only worsened when an American soldier allegedly shot and and killed 17 Afghan civilians in March.
Each blue-on-green attack has a marked impact.
"Every single incident has an out-of-proportion effect on morale and that goes for coalition forces as it goes for Afghan national security forces," ISAF spokesman Brigadier General Carsten Jacobson told The Tribune Express.
While the recent history shows as many as 10 incidents in 2012, Gen. John R. Allen, the man in charge in Afghanistan, explained in a press conference that similar incidents occurred in Viet Nam and Iraq. In Allen's words, "we should expect that this will occur."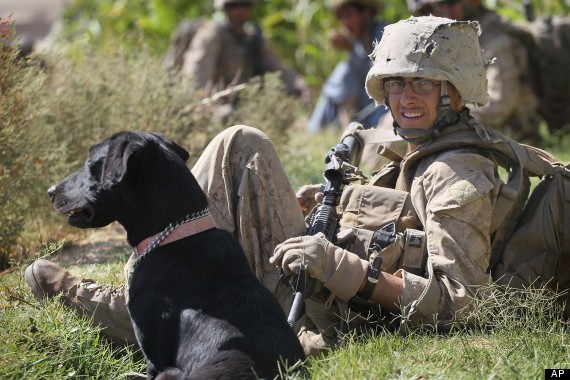 Mariah Barlow, 12, cries as her father, Chief Warrant Officer Joel Barlow with the Idaho National Guard, leaves for a one-year deployment to Afghanistan on Saturday, April 7, 2012 in Boise, Idaho. (AP Photo/Idaho Press-Tribune, Charlie Litchfield)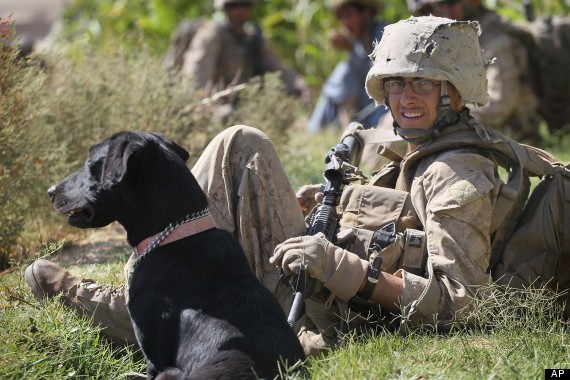 Members of the Patriot Honor Guard carry American flags across the tarmac at Gowen Field in Boise, Idaho on Saturday, April 7, 2012 following a mobilization of the Idaho National Guard for a one-year deployment to Afghanistan. (AP Photo/Idaho Press-Tribune, Charlie Litchfield)
Night raids have been a consistent point of contention between the U.S. and Afghanistan, even as the countries have cooperated in carrying out military measures. After the deadly shooting spree in March, allegedly by an American soldier, Afghanistan has been putting on pressure for the U.S. to relinquish power over night raids.
Today, the two countries came to an agreement, where Afghans get control over deciding when night raids take place, with Americans carrying out the operations.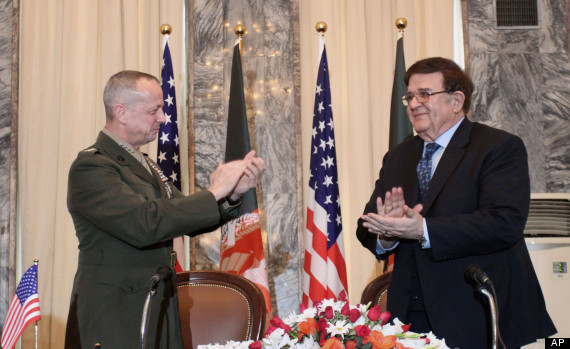 Gen. John Allen, left, the top commander of U.S. and NATO forces in Afghanistan, claps with Afghan Defense Minister Gen. Abdul Rahim Wardak after signing on an agreement document in Kabul, Afghanistan, Sunday, April 8, 2012. (AP Photo/Musadeq Sadeq)
While it seems like Afghanistan might be the winner, there's a hidden plus for the U.S.: Having another party held partially responsible if something goes wrong.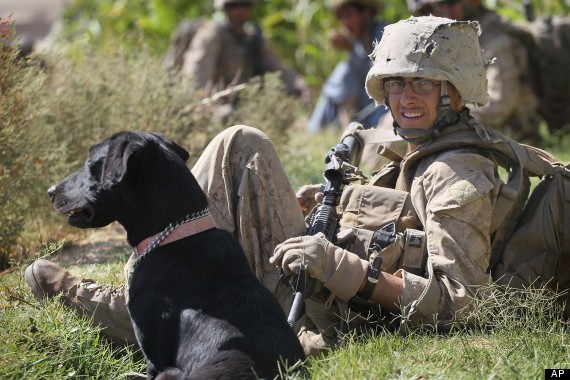 In this undated image released by Animal Planet, Marine Cpl. Jonathan Eckert of Oak Lawn, Ill., rests with his improvised explosive device sniffing dog, Bee, while on patrol in Afghanistan during the filming of "Glory Hounds." The series stars the military working dogs that serve beside their human partners in Iraq and Afghanistan. From tracking insurgents to sniffing out explosives, these heroic canines are an integral component of the armed forces and share deep emotional bonds with their human companions. (AP Photo/Animal Planet)
A lot of reports coming out of Afghanistan mention the term "spring fighting season." It sounds like a rite of passage or a foreign cultural practice that Americans might not understand. But in fact, it's simpler than that. The Associated Press explains:
During the harsh Afghan winter, snow often blocks roads and fighting dies down
In today's iteration of "spring fighting season," gunmen attacked an outpost and killed at least 10 members of security forces.
Nuristan is one of Afghanistan's 34 provinces, located in the country's northeast.

@ bsarwary :
#Afghanistan Local officials Nuristan: Heavily armed Taliban including foreign fighters surrounded 2 districts. Serious fighting taken place
A suicide bomber struck in a park in the relatively peaceful area of Maimana, the capital of Faryab province, around noon on Wednesday. At least 20 people were wounded in the suicide attack, and among the death toll were three American soldiers.
Associated Press footage of the scene shows graphic images of dead civilians, police and foreign troops.
WARNING: GRAPHIC IMAGES
";
var coords = [-5, -72];
// display fb-bubble
FloatingPrompt.embed(this, html, undefined, 'top', {fp_intersects:1, timeout_remove:2000,ignore_arrow: true, width:236, add_xy:coords, class_name: 'clear-overlay'});
});
Article source: http://www.huffingtonpost.com/2012/04/11/afghanistan-green-on-blue_n_1418564.html?ref=world
Short URL: http://militaryfeed.com/?p=22433