A homecoming surprise
Click photo to enlarge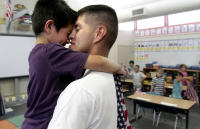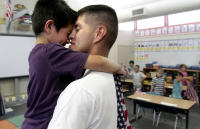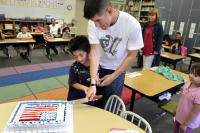 LIVE OAK – A little bit of the war in Afghanistan seeped into a Live Oak Elementary School classroom Monday with the surprise homecoming of a Marine who has not seen his 5-year-old son since last year.
Marine Corps Staff Sgt. Juan Estrada surprised his son as the class was in the midst of a flag dance and song in anticipation of Flag Day (somewhat of a ruse by the kindergarten teacher Arletta Smith to create a backdrop for the action, and explain the onlookers).
When his dad walked in, a stunned, too good to be true smile spread over Michael's face. He was so surprised that he continued waving the flag until his dad grabbed him, holding him tightly against his chest.
Michael beamed at his classmates over his dad's shoulder.
It was a moment Estrada said he has envisioned many times since leaving for Afghanistan in mid-December.
"It's definitely great to see him, and give him a hug," he said. "I thought about it all the time. It kind of gets you through the day."
Estrada, 26, grew up in Watsonville and is now living with his wife's family in the Live Oak area. He served one tour in Iraq and two in Afghanistan, as a combat engineer dealing with explosives and working on construction projects.
He said it was tough to leave before Christmas, and that it doesn't get any easier.
On this last tour, he was removing patrol bases, he said.
"Our big goal now is to minimize our footprint," Estrada said.
And yes, it was very hot, and his gear weighs about 60 pounds, he said.
"It's like freezing over here," he said. "But I'm not complaining; it's a nice change. It's good to get a break and it's good to give the kids a break too."
Estrada and his wife, Elisa, also have two young daughters, ages 3 and 2. The family is preparing for a move to Camp Pendleton, as Estrada has been assigned to work with a Wounded Warriors Battalion there.
In the classroom Monday, Smith read a book to the class called "My Dad is a Hero," which compares super heroes to American servicemen. And she and volunteers passed out pieces of a red, white and blue cake that had God Bless America written on it.
Smith, who retires this year after 30 years of teaching, said she convinced Estrada's wife to have a homecoming in class.
"We all know Michael's dad has been gone for a long, long time, and when I heard he was coming home, I thought we have to do something," she said. "It's important for the community to know our forces are out there risking their lives, and the kids need to know it's real. There is a real dad in those uniforms."
Elisa Estrada, 27, said she has counted the days until her husband's return. She said it was uncertain of the date until recently, when she finally got an email message from the family readiness officer telling her when he would arrive.
"It was very exciting; I've been waiting for this day," she said.
The two met years ago, while both worked at the Boardwalk, she said.
She said having her husband away for so long was nerve-wracking.
"I never wanted to watch the news," Estrada said. "I just tried to take it one day at a time. I tried to keep busy and not think about him being in Afghanistan, just thinking he's at work, doing what he has to do."
She said Michael will always remember the homecoming.
Michael declined comment about it all, just showing his dimples and clinging to his dad's legs.
A classmate offered to sum up.
"This is the best day ever," said Veronica Martinez Rodas, as she marveled over the flag napkins and paper plates and prepared to dive into some cake and ice cream.
Why? Because of the cake?
"No," she said. "Because Michael is so happy, that's all."
That was true. Michael sat on his dad's lap in a big, soft chair in the front of the classroom, trying to stop laughing long enough to eat his cake, holding his dad's hand, running his hand over his short, short hair, showing a loose tooth.
Michael left school a little early to spend time with his dad, hugging his teacher before he left.
Outside the classroom, Estrada paused.
"This little homecoming kind of snowballed," he said, with a grin. "It's always so nice to see something like that."
Follow Sentinel reporter Cathy Kelly on Twitter @cathykelly9
To read more stories chronicling the lives of returning veterans of the Iraq and Afghanistan wars, visit americanhomecomings.com
Article source: http://www.santacruzsentinel.com/ci_20833707/homecoming-surprise
Short URL: http://militaryfeed.com/?p=32485